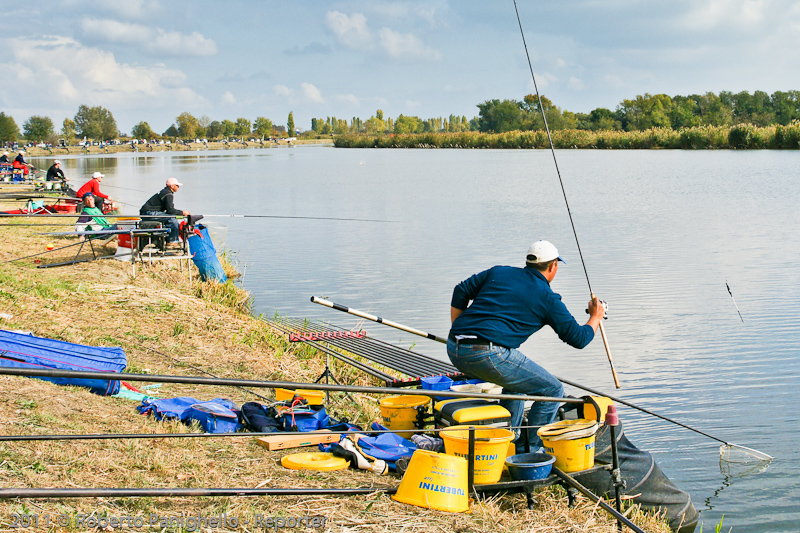 Fourth, last match hour; the sun comes out from behind the clouds and temperature is rising. Before continuing in the description of this second day match, it's necessary to write a few words about regulation of the Italic matchfishing championship. Believe in me: it's interesting. The season starts in March and the best clubs are divided into three geographical areas which correspond to as many rounds called Eccellenza Nord, Eccellenza Centro and Eccellenza Sud. The best teams of each Eccellenza qualify for the finals of the championship during which they'll face other six test-matches distribuited over three week-ends. This year the first four matches were held on canals Fiuma and Fissero, between Venice and Milan. Now, only the best 10 teams have earned the right to dispute the last two competitions here, on the Ostellato banks. Easy so far, right? So, where's the Italian job? Each club may enter more teams into his Eccellenza round, so if they happen to go through to the final act… I'll talk you more into my next article, but now speak about fishing!
Quarta, ultima ora di gara; il sole spunta dalle nuvole e la temperatura inizia ad alzarsi. Prima di continuare nella descrizione di questo secondo giorno di gara, ritengo necessario spendere qualche parola sul regolamento del campionato italico di pesca al colpo. La stagione inizia a marzo, con le migliori società divise in tre aree geografiche che corrispondono ad altrettanti campionati chiamati Eccellenza Nord, Eccellenza Centro ed Eccellenza Sud. Le migliori squadre di ciascuna Eccellenza si qualificano per le gare finali del campionato, durante le quali gareggeranno in altri 6 incontri distribuiti su 3 fine settimana. Quest'anno le prime gare si sono disputate sui canali Fiuma e Fissero, tra Venezia e Milano. Terminate queste, solo le 10 migliori squadre si sono guadagnate il diritto di disputare le ultime due gare qui, sulle sponde di Ostellato. Facile da capire, no? Allora, vi chiederete, dove sta l'affare italiano? Ciascun club può iscrivere più squadre nel suo torneo di Eccellenza, così se riescono a qualificarne più di una nella fase finale… vi racconterò il resto nel mio prossimo articolo, ora però parliamo di pesca!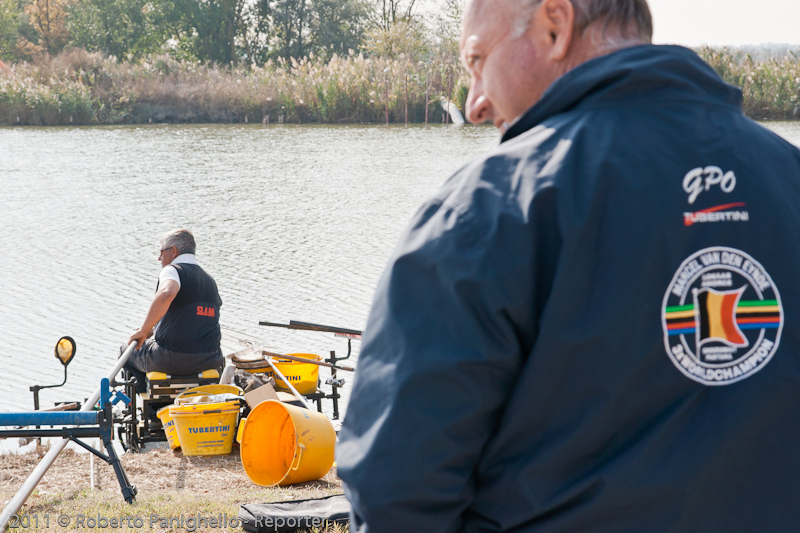 A sad scene: Umberto Ballabeni looks around trying to figure out what the opponents are doing, in particular Falsini, exactly on his left. Well, Sunday morning was not a great day for canal Ostellato: fish were not distributed evenly. But sometimes there're other reasons…
Una scena triste: Umberto Ballabeni si guarda attorno cercando di capire cosa stanno facendo gli altri concorrenti nel suo settore, in particolare Falsini che è esattamente alla sua sinistra. Domenica mattina non è stata una gran giornata per il canale di Ostellato: il pesce non era distribuito uniformemente. Qualche volta però ci possono essere altre ragioni…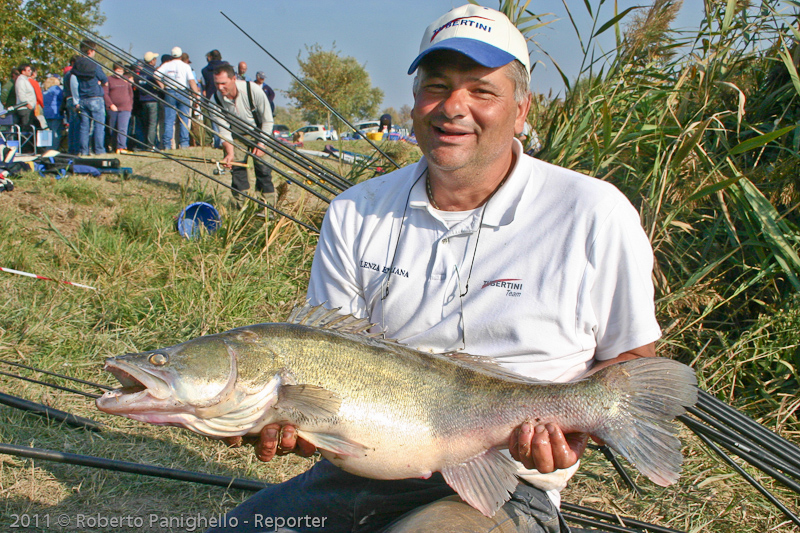 I took this picture two years ago during the 2009 Italic championship final match. Marco Corazza of Lenza Emiliana caught this great walleye while going after breams. Really an excepional fact, I agree. These waters are inhabited by large predators, first of all gigant wels catfish. If you're competing here and suddenly your float seems embalmed doesn't mean that there's no more fish under the rod, but that could be just one… very big and very hungry! Well, have you noticed anything in the mouth of Marco's walleye?
Ho scattato questa foto due anni fa durante le fasi finali del campionato italico 2009. Marco Corazza della Lenza Emiliana catturò questo perca mentre pescava bréme con la sua roubaisienne. Davvero un fatto eccezionale. Queste acque sono abitate da grandi predatori, primo su tutti il siluro. Se state gareggiando qui e improvvisamente il vostro galleggiante sembra non dare più segnali di vita, ebbene non significa che non avete più pesce sotto la canna, ma che ne avete solo uno… molto grosso e molto affamato! Ora, avete notato nulla sulla bocca di questo perca?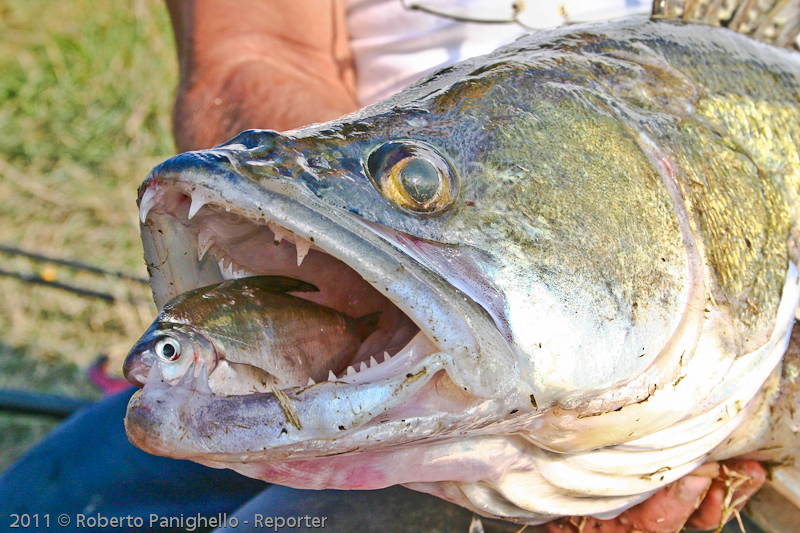 A little scaleless fish regurgitated. To be reborn as a bream or a crucian in Ostellato waters could be very dangerous…
Un piccolo pesce senza scaglie appena rigurgitato. Rinascere bréme o carassio nelle acque di Ostellato potrebbe essere molto pericoloso…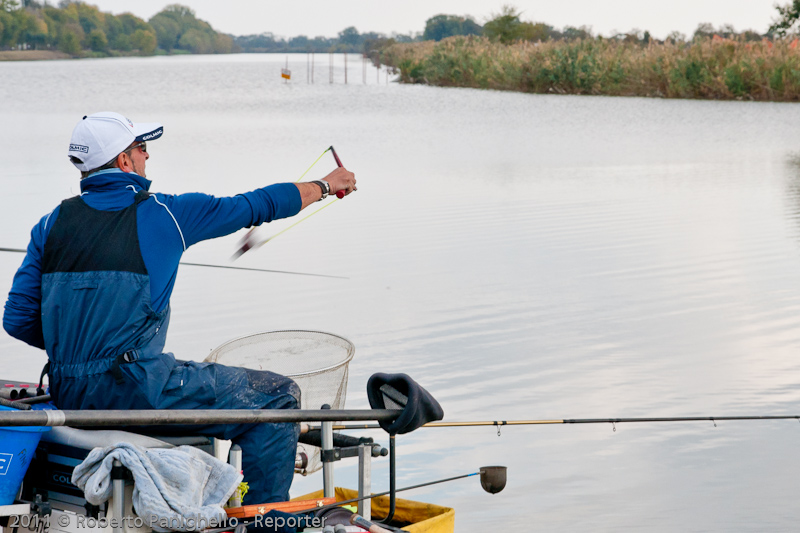 Andrea Fini during catapult feeding at 40 metres away. The canal is large 90 metres and depth around 2-2.2 metres at the centre as much as under long poles.
Andrea Fini mentre fionda pastura ad una distanza di 40 metri. Il canale è largo 90 metri e presenta una profondità attorno ai 2-2,2 metri, al centro così come sotto la punta della roubaisienne.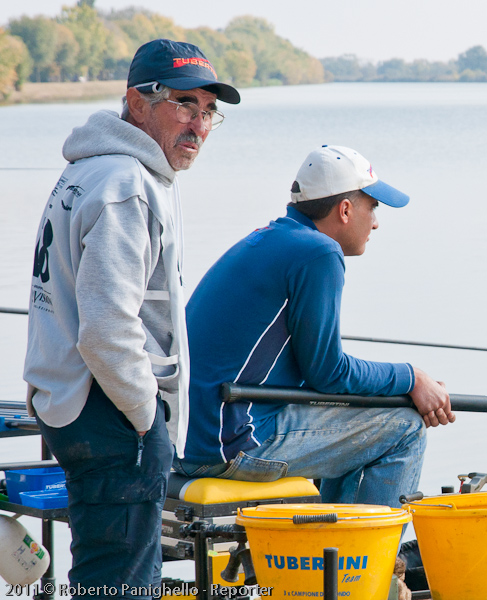 Team manager Franco Galliani seems worried looking over to Ballabeni's sector: bad news continue to arrive from that direction.
Franco Galliani sembra preoccupato mentre osserva in direzione del settore di Ballabeni: notizie preoccupanti continuano ad arrivare da quella direzione.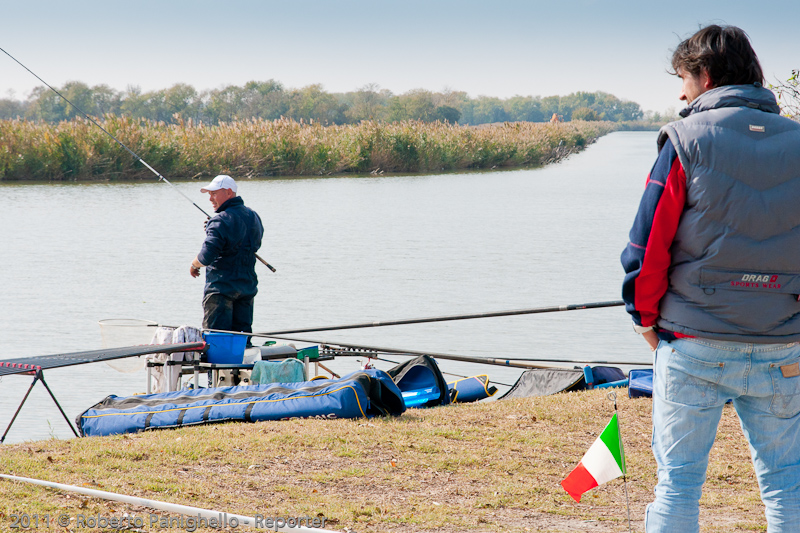 Falsini looks around too. After Saturday match Lenza Emiliana had a slight advantage on Oltrarno: the title is to be assigned by a whisker.
Anche Falsini si guarda attorno. Dopo la gara del sabato la Lenza Emiliana aveva un leggero vantaggio sull'Oltrarno: il titolo verrà assegnato sul filo di lana.
Franco Zucchi's nice bream just caught with match rod. He will snatch up the second best weight of the day.
Una bella bréme per Franco Zucchi appena catturata con la canna inglese. Realizzerà il secondo miglior punteggio della giornata.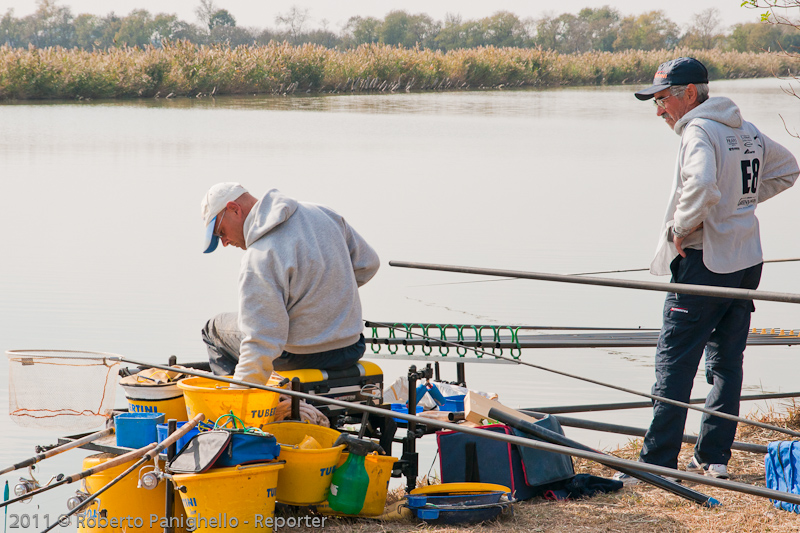 Mr Galliani near Simone Carraro. A bad peg and a diffult match for him too; 5th in his section with just 800 grams, beaten by Oltrarno angler Rudy Frigeri who obtained third position with 1170 grams.
Il signor Galliani vicino a Simone Carraro. A un avaro sorteggio fa inevitabilmente seguito una gara difficile anche per lui: quinto nel suo settore con soli 800 grammi, battuto nello scontro diretto da Rudy Frigeri che farà il terzo.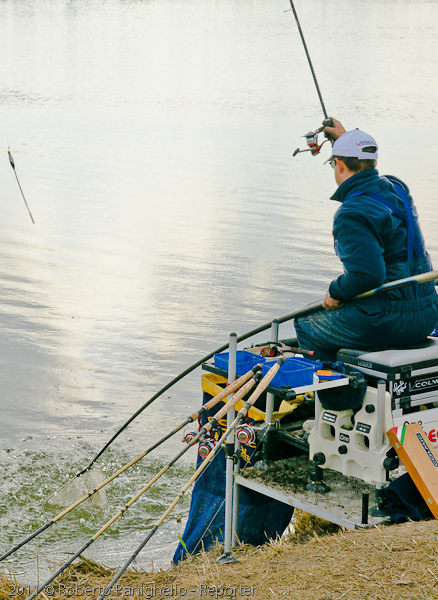 Look closely at this picture: the angler is Stefano Premoli of team Oltrarno while trying to net an enormous crucian carp. The fish seemed netted, but with a final backlash it managed to escape breaking the line. Disappointed, he'll say at the end of the match: "Never seen such a thing! ". With that bonus prey he could have won his section, but…
Gurdate attentamente questa foto: il garista inquadrato è Stefano Premoli dell'Oltrarno Colmic mentre tenta di guadinare un carassio enorme. Il pesce sembrava ormai domo nel guadino, ma con un colpo di coda è riuscito a scappar fuori e a rompere il finale. Sconsolato, a fine gara dirà: "Non ho mai visto nulla di simile!". Con quel pesce poteva vincere il settore, e invece…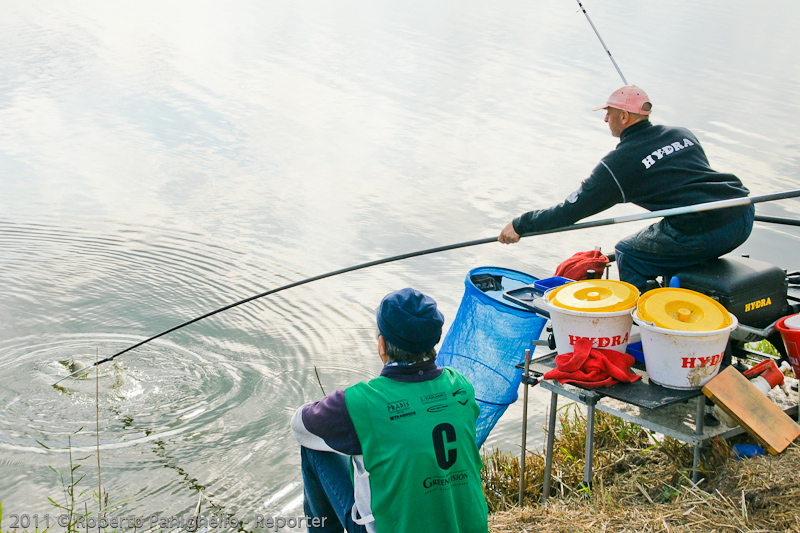 … on the other hand Franco Zucchi made no mistake…
… invece Franco Zucchi non sbaglia…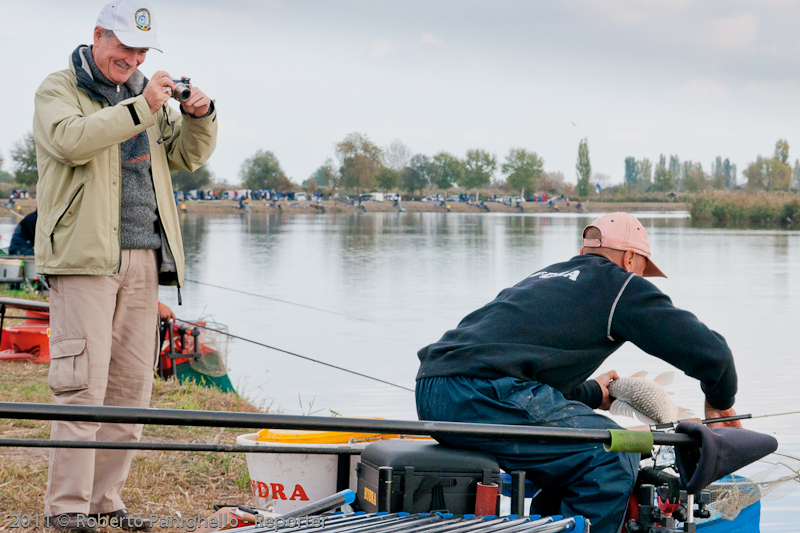 … a big crucian and first photos for him. Franco found his best preys at 35 metres using a 18 grams waggler and a couple of shots in the centre of the line. Two little earthworms for the first crucian, a mix of two maggots and some vers de vase for the others. Hook number 14 and final line of 0.12 millimetres, 40 centimetres long fully supported.
… un grosso carassio e le prime foto per lui. Franco ha trovato i suoi pesci migliori a 35 metri usando un waggler da 18 grammi e un paio di pallini a metà lenza. Due piccoli lombrichi per il primo carassio, un mix di due bigattini e alcuni vers de vase per gli altri. Amo numero 14 a filo sottile e finale dello 0.12 lungo 40 centimetri completamente appoggiato.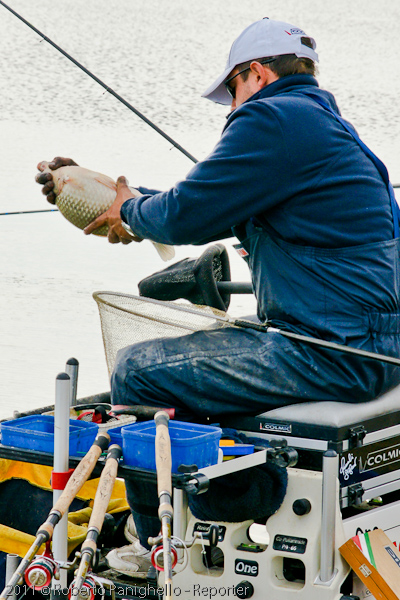 Stefano Premoli again: this time he succeds in netting his prey. His right hand is black cause of groundbait. He obtained 4th position with 4620 grams, in the same section of Zucchi.
Ancora Stefano Premoli: questa volta è riuscito a guadinare la sua cattura. La sua mano destra è nera a causa della pastura. Ha ottenuto la quarta posizione con 4620 grammi pescando nello stesso settore di Zucchi.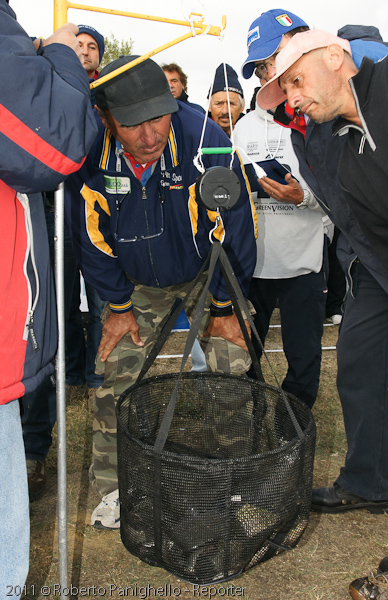 End of the match: weighing time for Zucchi. 6460 grams, second best weigh of the day beaten just by Claudio Guicciardi at the other end of the venue. The Longobardi's angler has captured over 11 kilos of breams on his "end" peg.
Fine della gara: tempo di pesatura per Zucchi. Quasi sei chili e mezzo per lui, in assoluto secondo miglior peso battuto solo da Claudio Guicciardi dall'altra parte del campo gara. Il garista della Longobardi ha catturato oltre 11 chili di bréme sfruttando al meglio il suo picchetto terminale.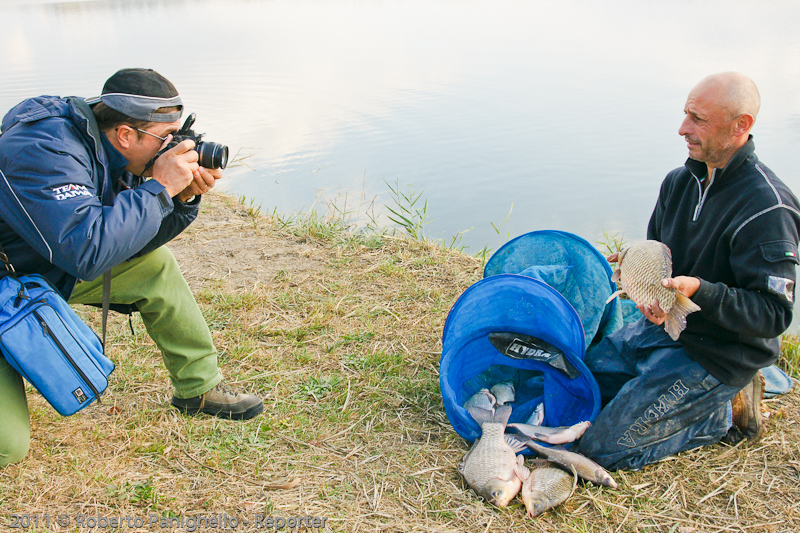 And now lots of photos for Franco and his marvelous friends.
E ora un sacco di foto per Franco e le sue meravigliose catture.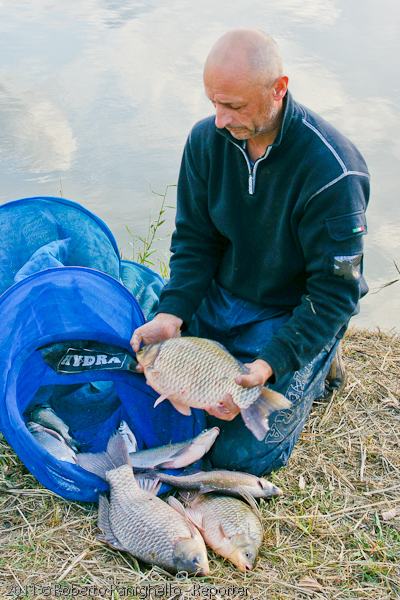 I know what your're thinking: it's not a good thing to keep fish in contact with the ground. As soon as possible I'll publish the third article.
So cosa state pensando: non è il massimo tenere il pesce a contatto con il terreno. Il prima possibile cercherò di pubblicare l'ultimo articolo su questa finale di campionato italico.
About the Author