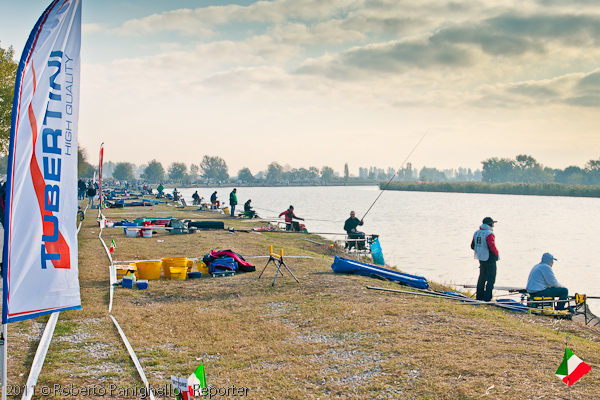 Oltrarno of Florence won the 2011 Italic championship on canal Ostellato. The last two matches disputed on Saturday 22 and Sunday 23 were a hard fight between Oltrarno and the other top team, Lenza Emiliana (city of Bologna). With the only excepion of Luigi Sorti who fishes with Ravanelli, near Cremona, the rest of Italic top anglers belongs to the florential team (Jacopo Falsini and Andrea Fini) and to Lenza Emiliana (Ferruccio Gabba, Umberto Ballabeni), even though I must say even the other members of respective teams are the best you could desire to have in your own. How did things go? Response: so so. A little but foundamental detail in the regulations has allowed a certain conduct during the match. If you're getting to think to an Italian job, well… you're right! I will explain it into the 3rd article I am going to dedicate to the event; however, the match was a great match and the "A Team" of Oltrarno deserved the title with honours. Now let's talk about the actual fishing.
L'Oltrarno di Firenze ha vinto l'edizione 2011 del campionato italico sul canale Ostellato. Le ultime due gare disputate sabato 22 e domenica 23 sono state combattute duramente tra l'Oltrarno e l'altro top team, la Lenza Emiliana di Bologna. Con la sola eccezione di Luigi Sorti che gareggia con la Ravanelli, i restanti top anglers italici militano proprio nella società fiorentina (Jacopo Falsini, Andrea Fini) e nella Lenza Emiliana (Ferruccio Gabba, Umberto Ballabeni); gli altri componenti sono comunque il meglio in circolazione. Ma come sono andate le cose? Risposta: così così. Un piccolo ma fondamentale dettaglio nel regolamento sembrerebbe aver permesso una certa condotta durante il match. Se pensate ad un classico Italian job, beh… ci siete! Spiegherò la cosa nel terzo articolo che ho programmato di dedicare all'evento; comunque, le gare sono state di alto livello e la squadra "A" dell'Oltrarno ha conquistato il titolo con merito.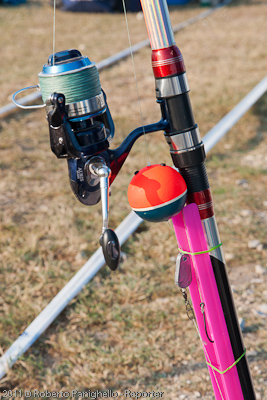 This is the first tackle I saw just entering the venue: a man was talking to another along the bank. He was going to angle wels with this surfcasting gear (big sheathfish are very common on this canal). Anyway fishing wasn't the argument of conversations: the most pronuciated word was Belen…
Questa è la prima attrezzatura che ho visto appena entrato nel campo gara: un signore stava parlando con un altro lungo la sponda, pronto ad andarsene a siluri con questa robaccia da surfcasting. Ad ogni modo la pesca non era l'argomento principale delle conversazioni che udivo lì attorno: la parola più pronunciata era Belen…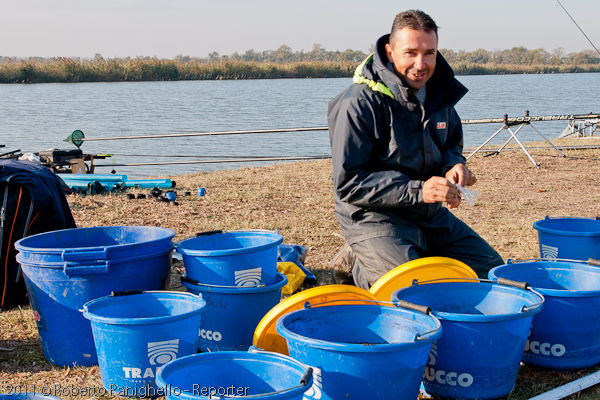 I stopped walking in front of this gentleman: his name is Stefano Bosi of team Ravanelli. I spoke with him for a litte, inquiring about his set-up for the match.
Mi sono fermato davanti a questo signore: il suo nome è Stefano Bosi del team Ravanelli. Ho parlato con lui per un po', chiedendogli qualcosa sulla sua condotta di gara.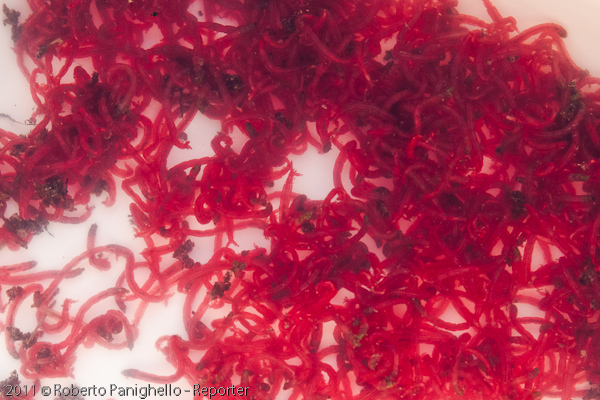 Vers de vase (French name) or Chironomus larvae, and not bloodworm as English says! This is the first fishing option in Ostallato, but not the only one. We'll see…
Vers del vase o larve di Chironomus. Questa è la prima opzione pescando a Ostellato, ma non la sola. Vedremo…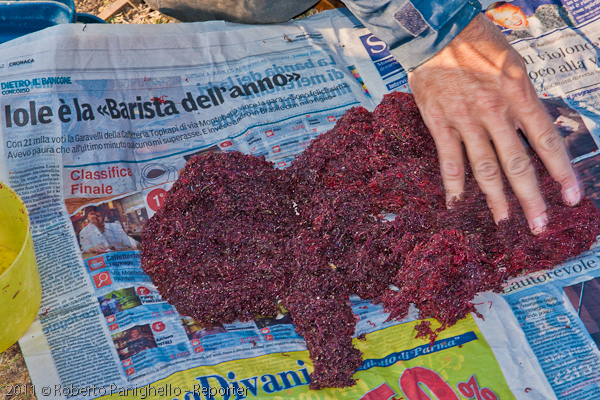 Fouillis, other Chironomus specie larva to use into groundbait or into earth. "Iole is barman of the year", that's the title written on the newspaper… I'm happy for Iole.
Fouillis, altra larva di una diversa specie di chironomide da impiegare nella pastura o nella terra. "Iole è la barista dell'anno" c'è scritto sul titolo del quotidiano… sono contento per lei.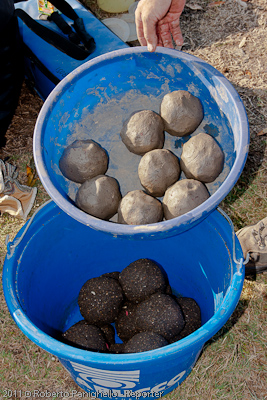 Stefano's groundbait down, the celebrate "pongo" up. The black groundbait is thrown first to create a layer, over which the pongo is to end up. This isn't the place to explain this feed method, so I'll try to realize a report with a pro angler. Give me some time.
Sotto, la pastura preparata da Stefano, sopra invece il celebre "pongo". Lo sfarinato nero viene gettato per primo in modo da creare uno strato su cui poi ci finirà la materia inerte. Questo non è il posto migliore per spiegare la strategia nel dettaglio; meglio realizzare un articolo ad hoc con un top angler. Datemi un po' di tempo.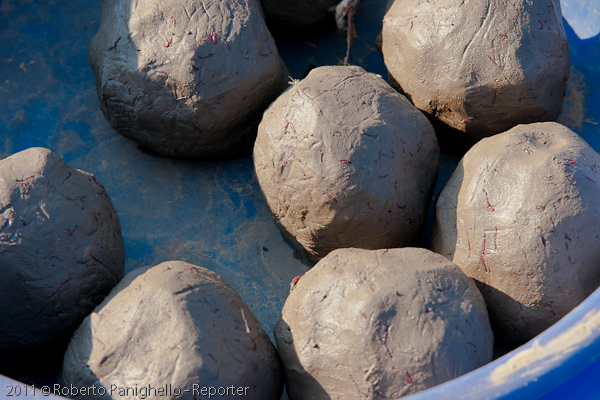 A particular mix of Riviere earth and bentonite worked to obtain pongo, with little fouillis .
Un particolare del mix di terra di Riviere e bentonite lavorato per ottenere il pongo, con un po' di fouillis.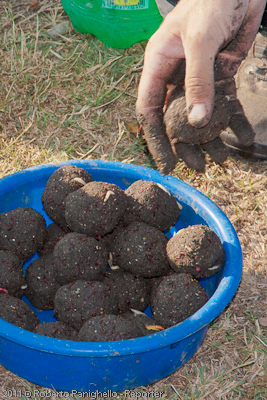 Preparation of litte groundbait balls with fouillis and dead maggots. These will be launched using catapult at 35-40 meters away. Bosi will end up 2nd in his section with 1620 grams.
Preparazione di piccole sfere di pastura farcite di fouillis e bigattini morti. Verranno lanciate con la fionda a 35-40 metri di distanza. Bosi otterrà la seconda posizione nel suo settore con 1620 grammi.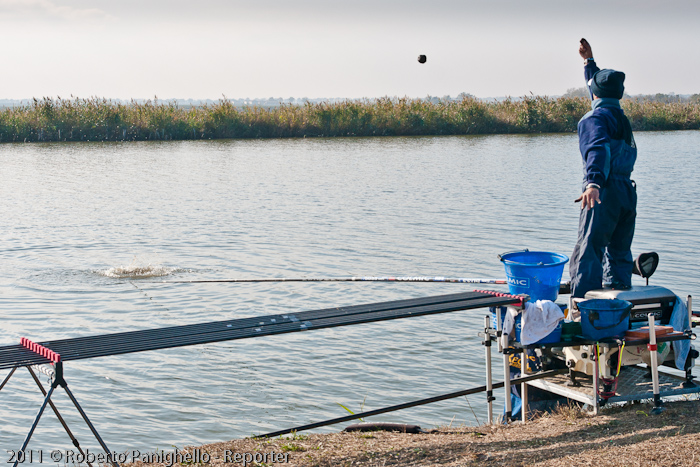 Start of the 10 minutes heavy feeding. The individual world champion Andrea Fini in action at a distance of 13 metres.
Inizio dei dieci minuti di pasturazione pesante. Il campione del mondo individuale Andrea Fini in azione alla distanza di 13 metri.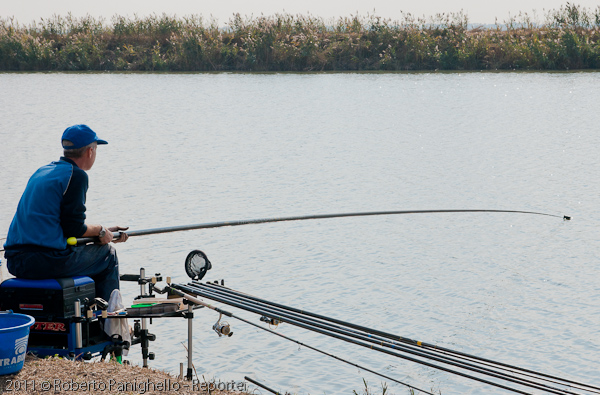 Luigi Sorti while feeding using cupping kit on his 13 metres line.
Luigi Sorti mentre si accinge a scodellare sulla 13 metri.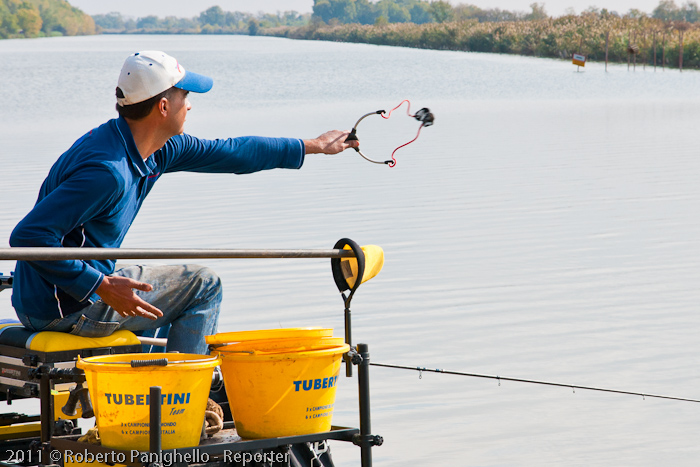 Ferruccio Gabba: preparation of the long distance line with catapult.
Ferruccio Gabba: preparazione della linea di pesca più lontana.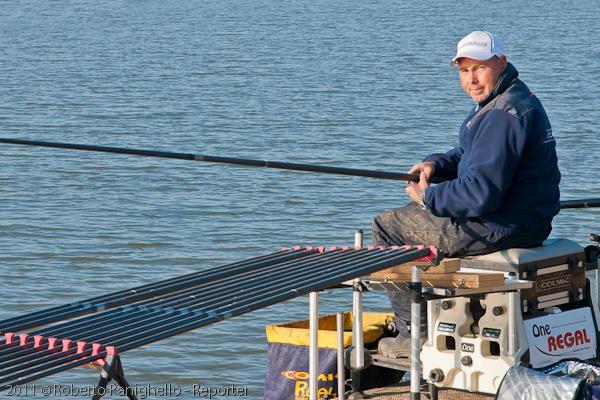 Falsini's waiting after heavy feeding. Like other competitors, he started out with the roubaisienne.
L'attesa di Falsini dopo la pasturazione iniziale. Come altri garisti, ha iniziato con la roubaisienne.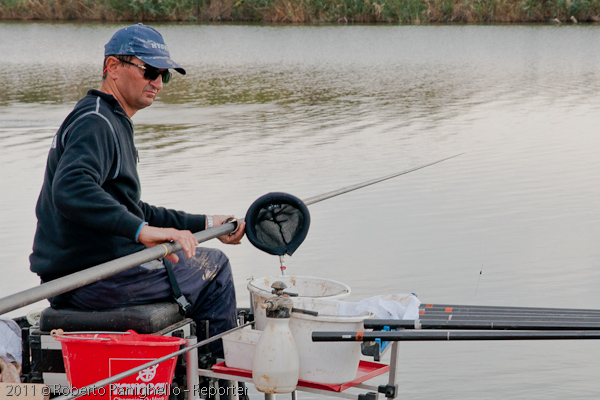 This angler is Giancarlo Armiraglio, last year's Italic champion with his team on river Mincio, really fantastic season and a great surprise for all. Castelmaggiore (near the city of Bologna) classified 6th in this final classification, just 5th during the Club World Championship disputed in Serbia last June.
Questo garista è Giancarlo Armiraglio, vincitore l'anno scorso del titolo italico con il suo team sulle sponde del fiume Mincio, davvero una fantastica stagione e una sopresa per tutti. La Castelmaggiore si è classificata sesta in questo campionato, quinta durante il campionato mondiale per club svoltosi in Serbia lo scorso giugno.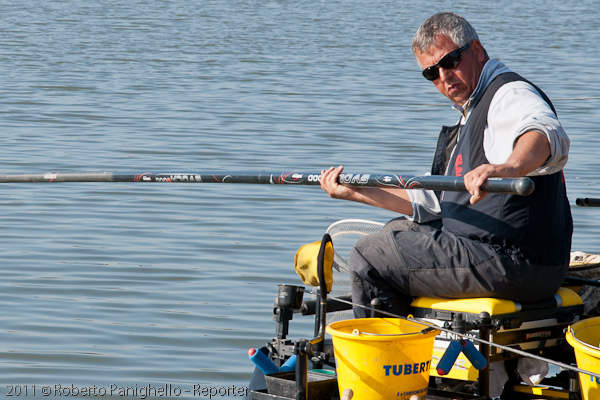 Ballabeni in action with long pole.
Ballabeni in azione con la roubaisienne.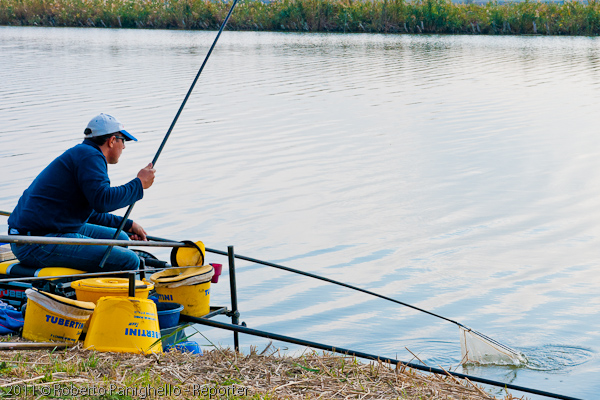 A bream catched at 13 meters, but other anglers seem to find something else beyond that point…
Una breme catturata a 13 metri, ma altri sembrano trovare qualcosa oltre…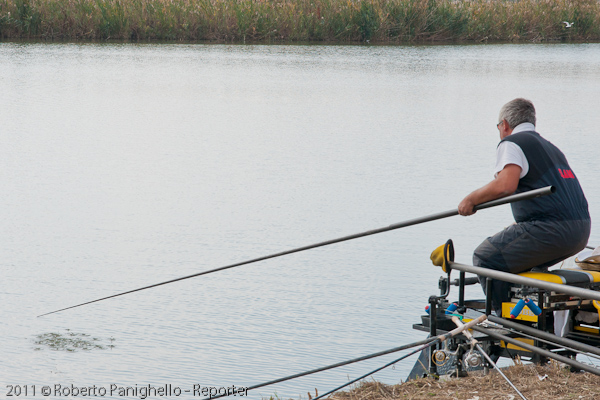 Ballabeni again. He's trying to catch some fish near bank with 6 pole pieces. Roubaisienne seems not to be the winning rod for everyone today, but there's more: bad pegs. We'll see in the next articles how Umberto's result will be dramatic for his club.
Ancora Ballabeni, qui mentre cerca di catturare qualcosa vicino alla riva con sei pezzi di canna. La roubaisienne non sembra essere la canna vincente per tutti oggi, ma c'è di peggio: un cattivo sorteggio. Vedremo nell'ultimo articolo quanto il risultato di Umberto risulterà drammatico per il suo team.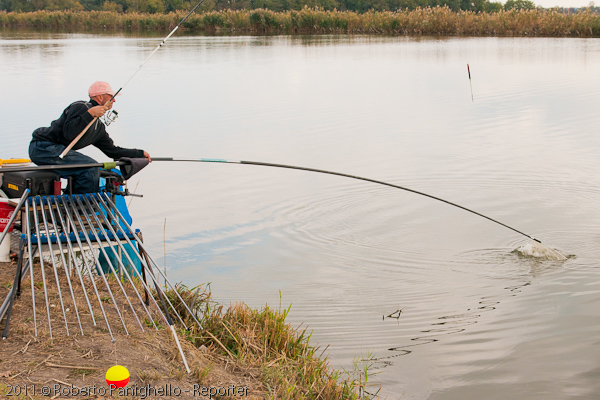 Big crucians moved on in the last hour… huge ones, but not for everybody. This fish took earthworms; more about in the next article.
Grandi carassi hanno iniziato a muoversi nell'ultima ora di gara, anzi… enormi carassi, ma non per tutti. Questi pesci hanno abboccato sui lombrichi, tuttavia vi racconterò di più nel prossimo articolo.
About the Author