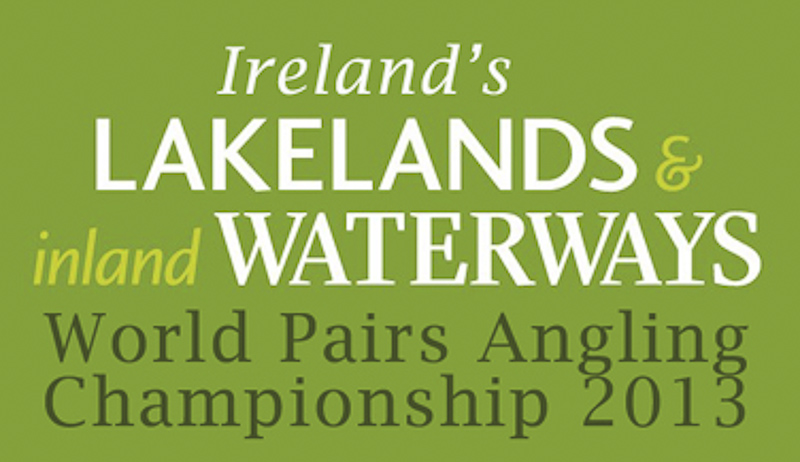 7,418.590 kg of hybrids, roach, perch and skimmers weighed in over the week: that's what has been experienced in the 2013 Lakelands and Inland Waterways World Pairs Angling Championships (64 pairs, 128 anglers, 11.591 kg to each one every day for five days). Friday, 13th September, day 5: let's see what appened during the last day of the event thanks to pictures and press release send me by Steve Lockett (you can have further information by the organizers' official site and their Facebook page).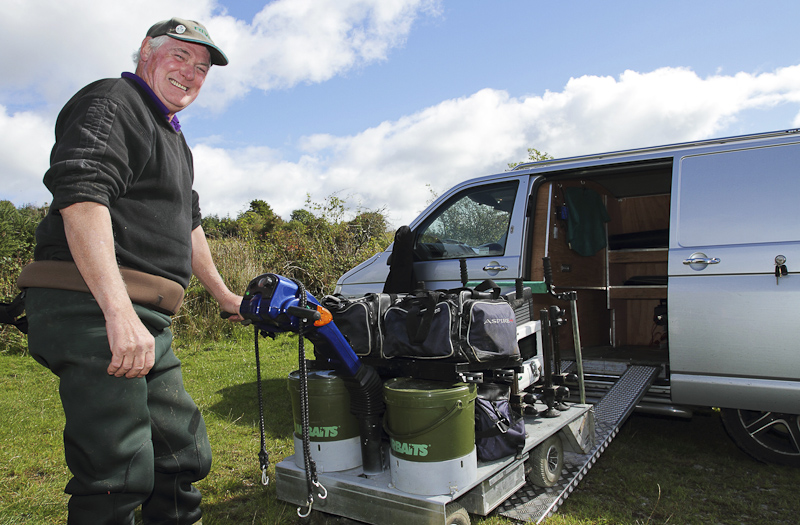 Dave 'Mossy' Moss is well known around the south of England for his home-made motorised trolley. He said: "When I retired, I decided to spend some money on getting myself kitted out to make the fishing easier. My van has ramps to get my trolley in and out, and even has a winch for if the battery goes flat." Equipped with indicators, lights, a hooter, mobile phone charger and even refrigerated buckets for bait, is great for use on commercial fisheries, but most venues in Ireland require the old fashioned of carryin everything over slightly uneven terrain. During the World Pairs event, there was a blind teams of four drawn: Mossy lined up alongside Daiwa Cup front runner Rod Scott,Mark Pollard and eventual Daiwa Cup winner, Cathal Hughes. They finished with a total weight of 315.270 kg and Mossy was quick to point out his part in the success. He also said: "I had to put them all right several days. No, not really, I think they carried me and may not have needed my 35 kg at all. I blame fishing on commercials, it has badly affected the way I fish on natural venues."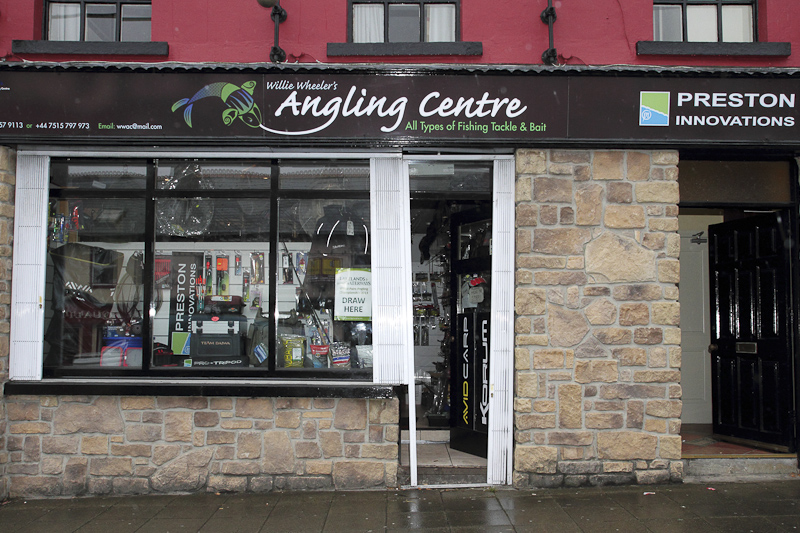 Ballyconnell, County Cavan,Willie Wheeler's Angling Centre. Finding enough bait and emergency supplies of tackle is taken care of thanks to a network of shops and dealers around the Lakelands region. Former world individual silver medallist Willie Wheeler was keen to fish the event, but has to run his new tackle shop in Ballyconnell to cater for the daily draws at the Angler's Rest Hotel. For anglers in Enniskillen, Fishing Tackle and Bait was on hand despite owner David Burleigh being in Poland on international duty for Ireland at the World Championships.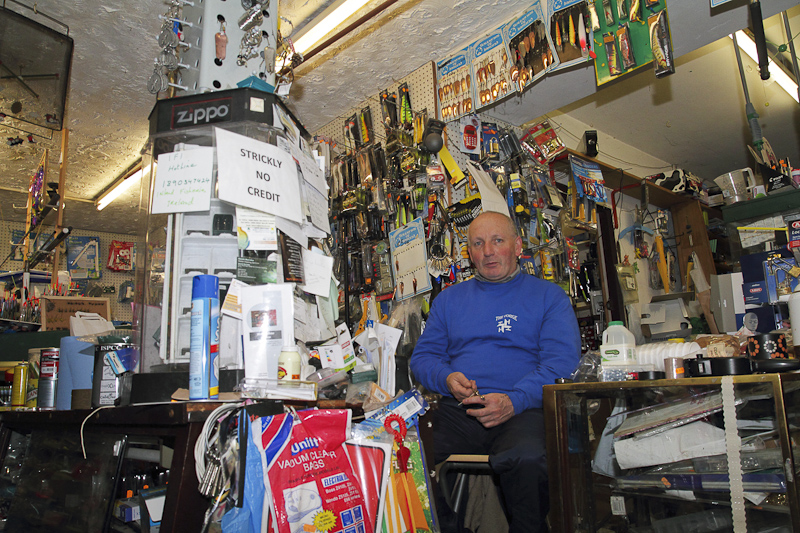 In Ballinamore, County Leitrim, local legend Gabriel Owen left wife Dee to look after those who came to The Forge for supplies. This shop is an institution in angling circles, with its haphazard displays and curious mix of floats and plumbing suppies. Usually in the same boxes. Dee and Gabriel insiste they know exacly where everything is, so once you have taken a look, it's probably best to ask for what you want.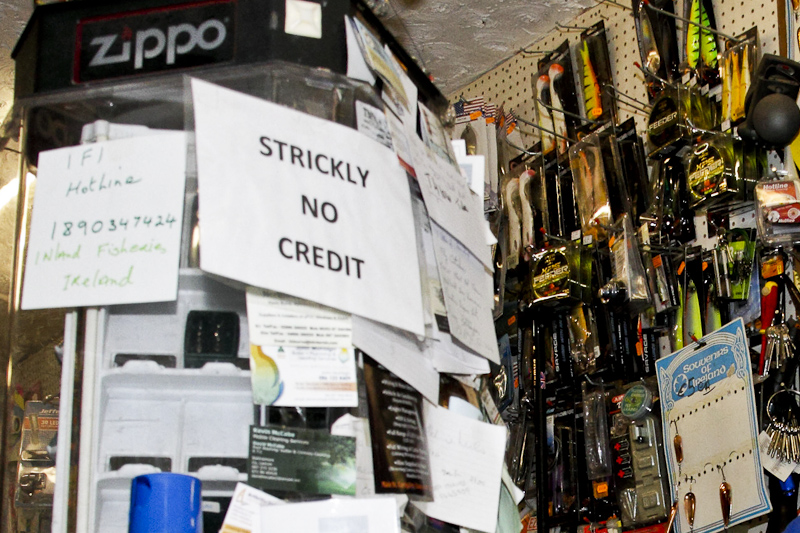 A message perfectly sharp, although slighty out of focus.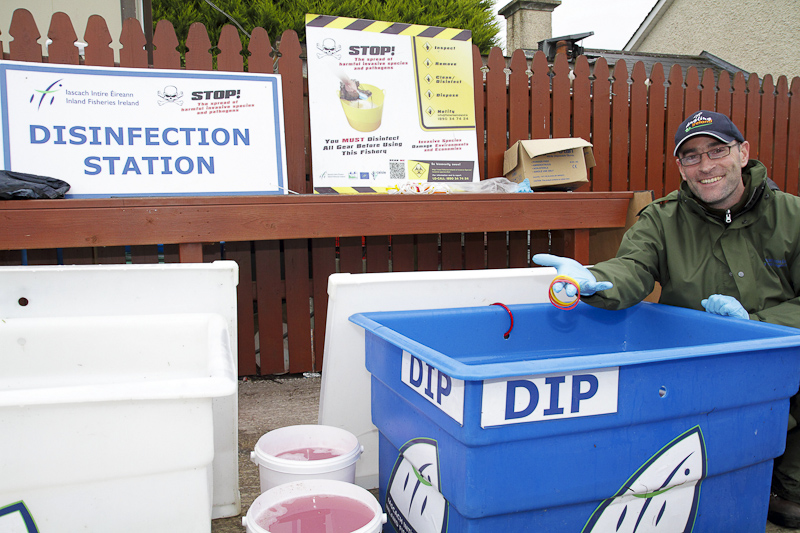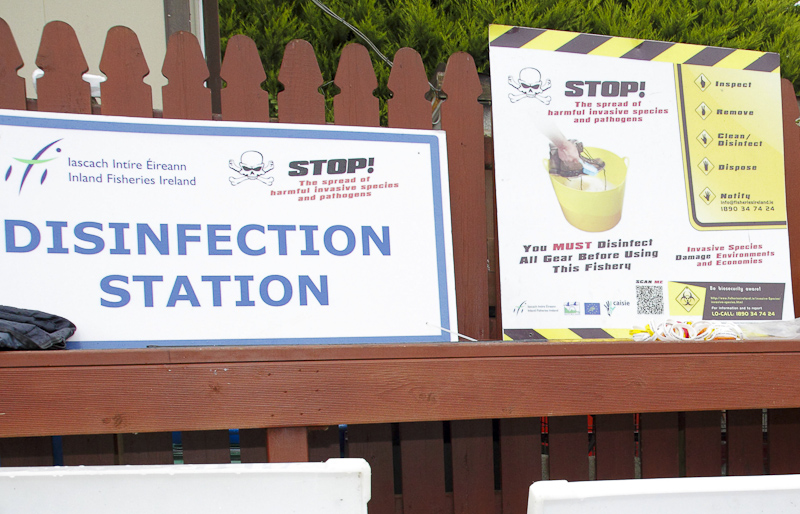 This is a scene that you'll never see in Italic waters, simply because there's no environmental culture in Italy.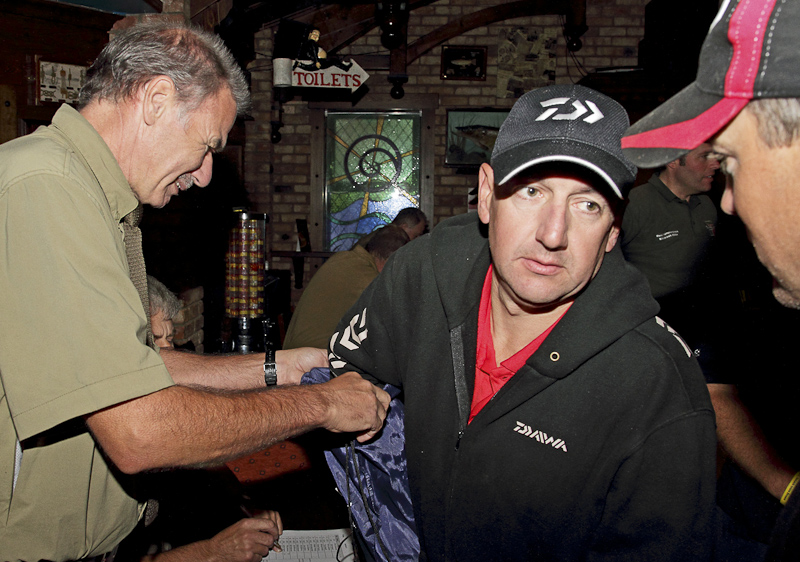 Philip Jackson: drawing time.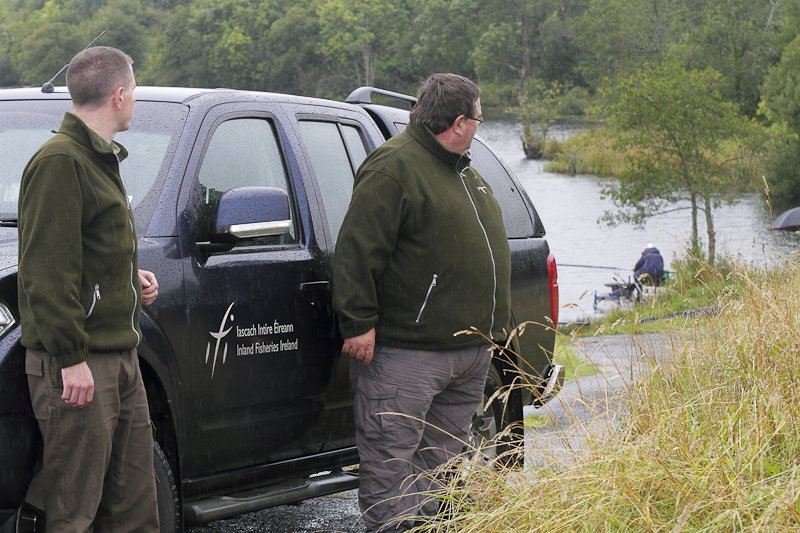 Day one, Monday 9th: morning rain, turned warm and sunny, 18°-19°, light winds. Day two, Tuesday 10th: started bright, became overcast, 15°-16°, moderate breeze. Day three, Wednesday 11th: morning rain, cleared in afternoon, 17°-18°, moderate wind. Day four, Thursday 12th: misty morning, overcast skies gave heavy rain later, 17°-18°, strong winds in afternoon. Day five, Friday 13th: generally clear and bright, 18°-19°, light breezes. The weather over the winter and into this summer played a big part in the fabulous fishing.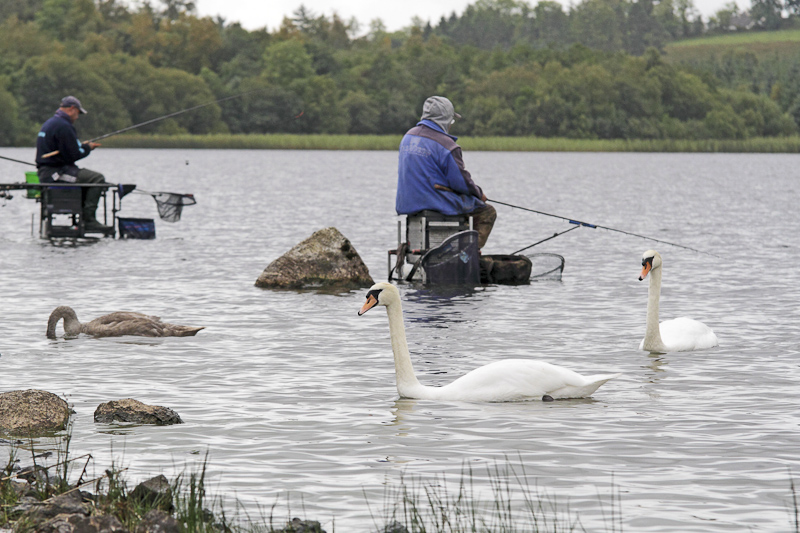 Even during the week competition, the weather stayed quite mid for the time of year. Many local people thought the sport has been much better this year thanks to a cold winter and warm, dry summer.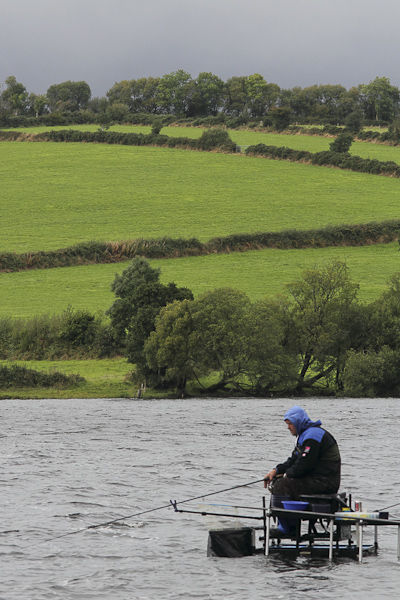 Gabriel Owens, who has guided anglers to the Lakelands region for more than twenty years, spends time out in boats filming underwater, and had this to say: "The water clarity has lead to an explosion of roach/bream hybrids, which makes for consistent angling. The big bream are still in the lakes, but they tend to feed at night now. The dry weather certainly made the fishing better than in 2012, when the rain kept the water temperatures down. We can see fish moving all the time when we're out on the lakes. A few more anglers coming here and throwing bait in would keep them feeding and growing and help those catches that we all want to see."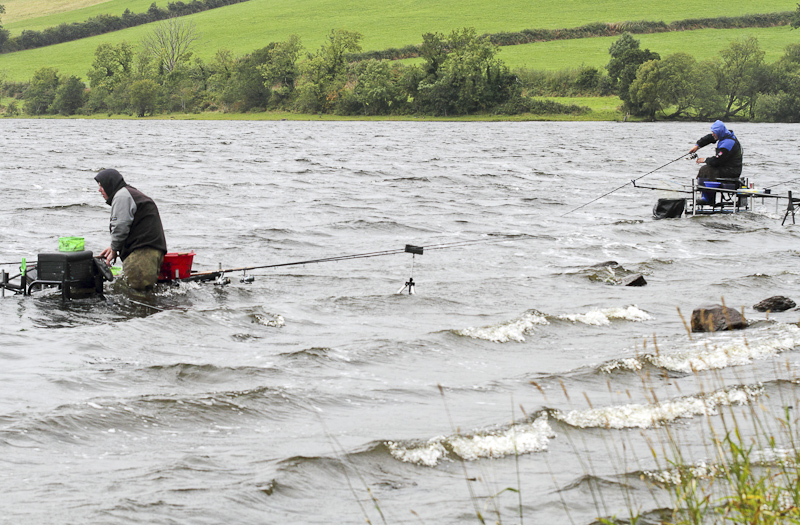 Rain and wind: no problem for northern anglers.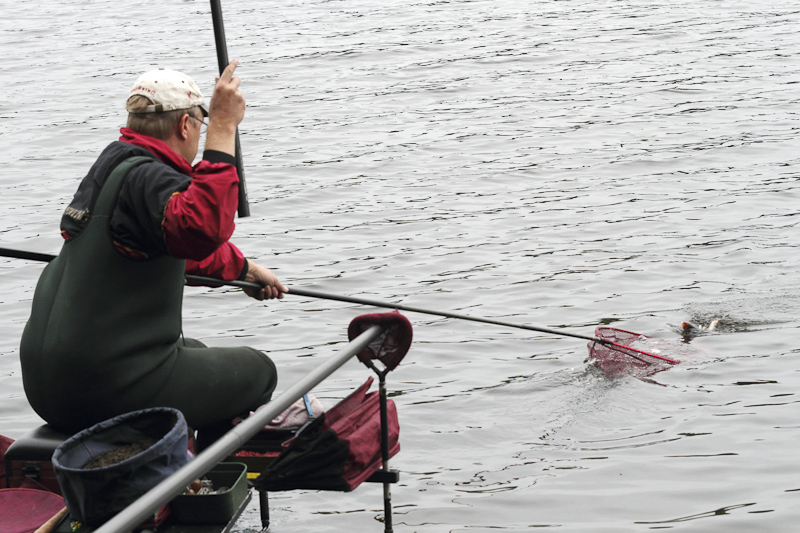 Rudigen Hansen in action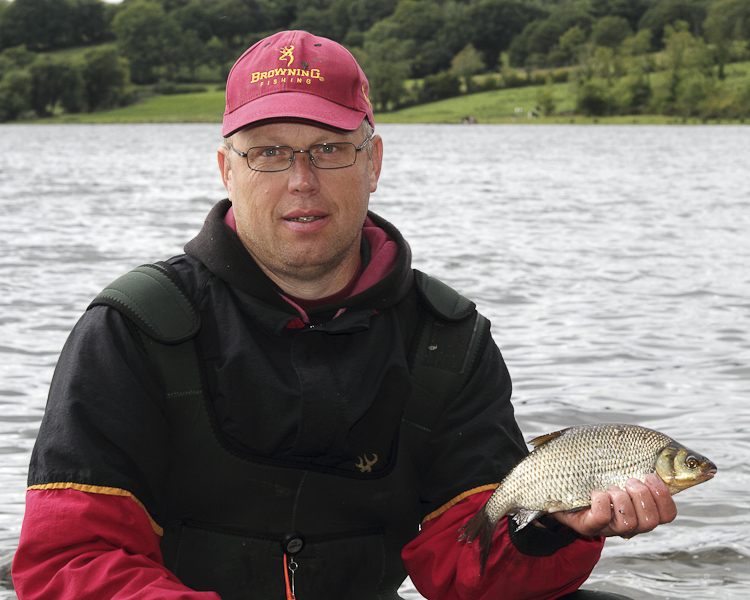 Rudigen with a nice hybrid. He was the top finisher of the German visitors: his 63.330 kg left him in 44th place at the end. Other German angler Markus Billen finished strongly in 64th place with 57.410 kg thanks to a last day 16.560 of quality pole caught fish next to Cathal Hughes.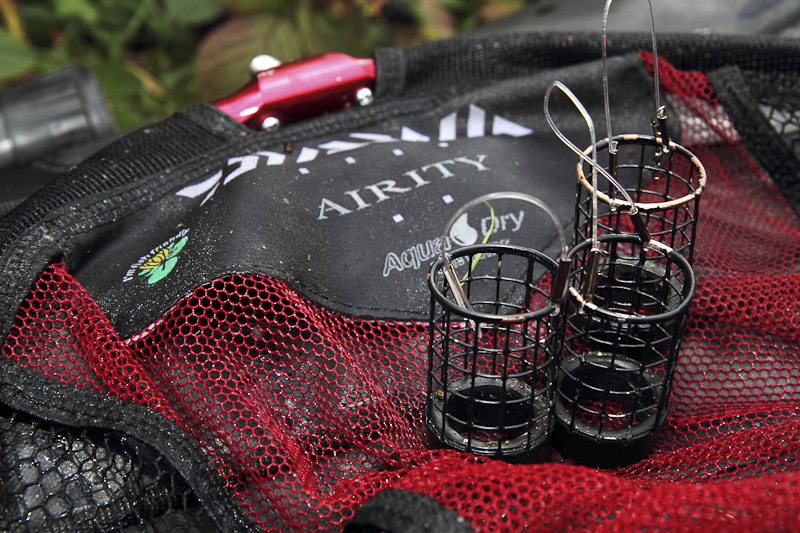 Kevin Leach's feeders, the same used by many competitors.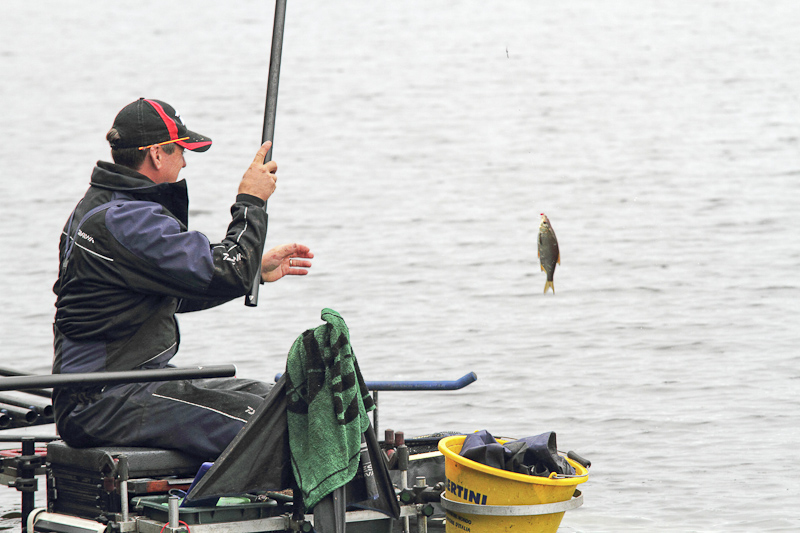 Not only feeder fishing: to be competitive you have to fish well also with the pole.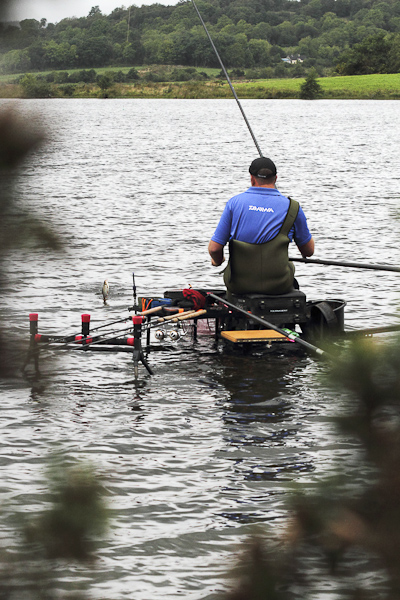 Steve Ringer at Bunerky Lake. He said: "Cathal had told us that Bunerky Lake would be a pole job if the skimmers and the hybrids weren't feeding, but Brackley would be out and out feeder fishing. Phil isn't the best on the pole, so we had to have me draw on Bunerky and Phil at Brackley." Drawing exactly that order helped Steve win his section with an astounding 18 kg of tiny roach on the pole at 13 m.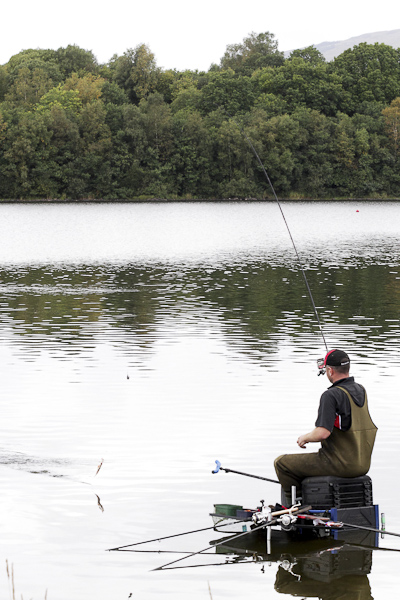 The other half of Ringer pair: Phil was drawn 4 on Brackley Lake and fished the feeder at short range all day. He said: "In the first two hours of the match I had 80 fish. They were mostly perch, but good little weight builders."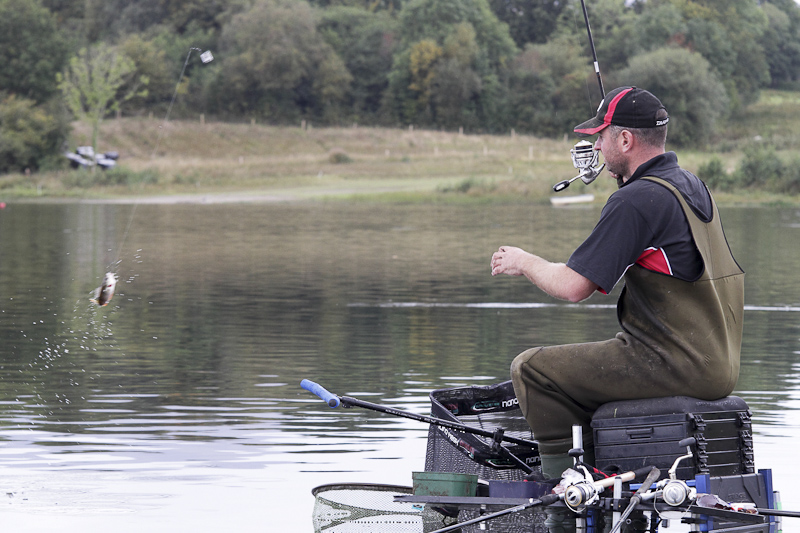 Phil swings a little perch. "I began to get a few hybrids as well, but I was maily fishing for the perch cup!" he said. When the final whistle blew on the 2013 competition, Phil's 18 kg net was also enough for a section win, but the combined 36 kg was never enough to overhaul Cathal and Jacko's 48 kg addition. It was, however, just enough to lift the Ringer Brothers from 7th to 2nd, with a different of €7,000 in prize money.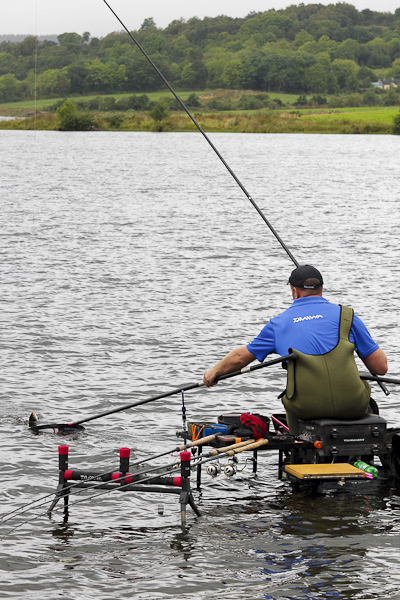 Steve Ringer nets a hybrid.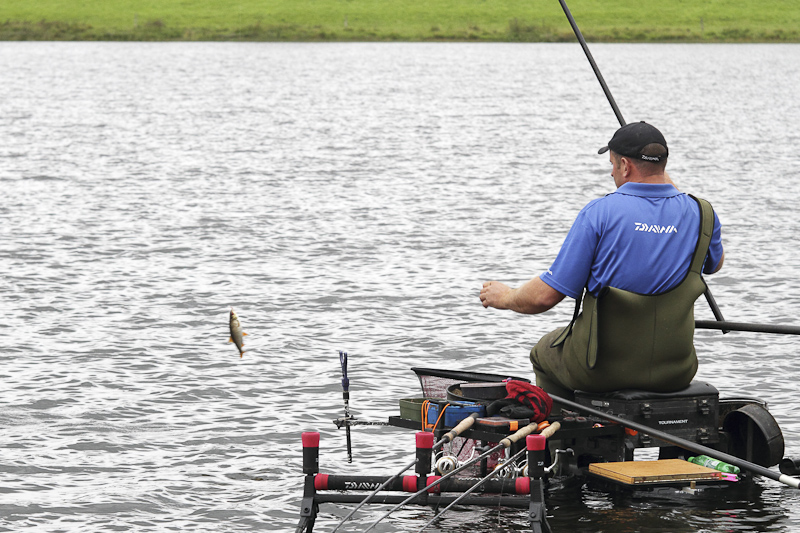 And now while swings a roach. With some of the best of Europe's anglers taking part this year, it was always going to be diffucult to win either the pairs or the Daiwa Cup. Steve Ringer knew he and Phil still had things to learn about Irish festival fishing. «I had bad day on the Mud Flats. I knew there were some bream around and just tried too hard to catch them. Instead, I should have got my head down and scraped some small fish togheter» he said. His 2.060 kg final weight in day two was made up of a single bream from peg 12A, while Phil managed to put 12 kg on the scales in section B. «The problem was, we didn't know what would be target weights for the week. I was going all out for a big weight, when there were always going to be areas where 7 or 8 kg was the best you could ever hope for» he said again.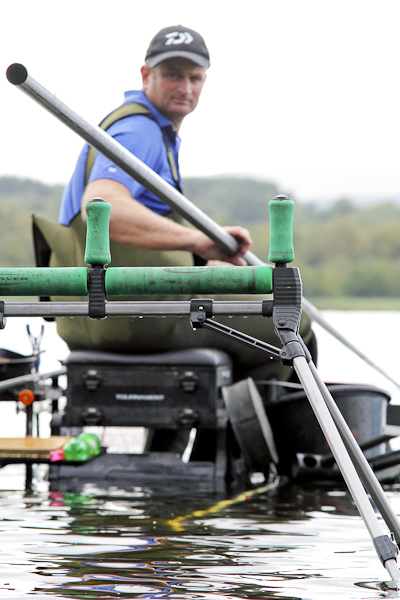 Steve Ringer was one of the big names drawn to fish the Lakelands and Inland Waterways World Pairs Angling Championships. With brother Phil as his partner, he came to take on some of the best match anglers in Europe on venues and in a country he had never fished before. Unluckily, he fell just short of both pairs' and individual wins, picking up second place in both.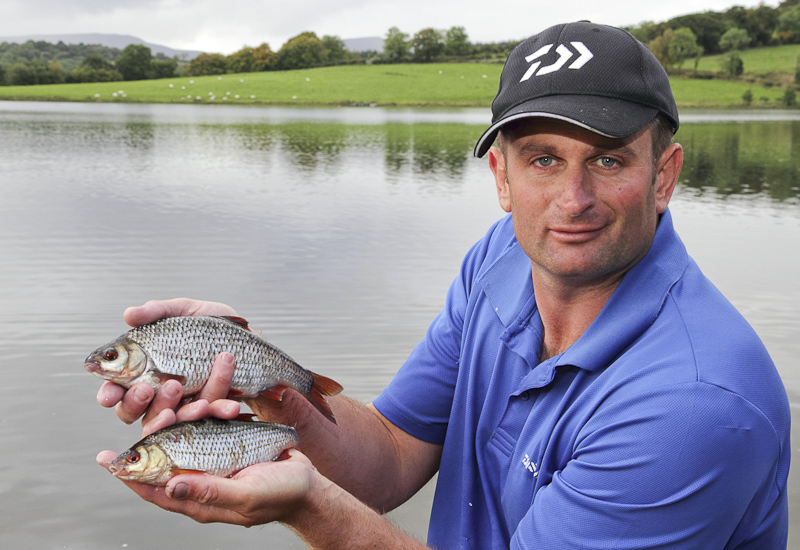 Steve spoke about his visit: "It's been fantastic. Phil and me have definitely learnt that the fishing here rewards anglers that work hard. There have been just a couple of poor pegs, but still a good day's fishing with 10 kg or more on offer at over 90% of the pegs. We never imagined the fishing would be so consistent."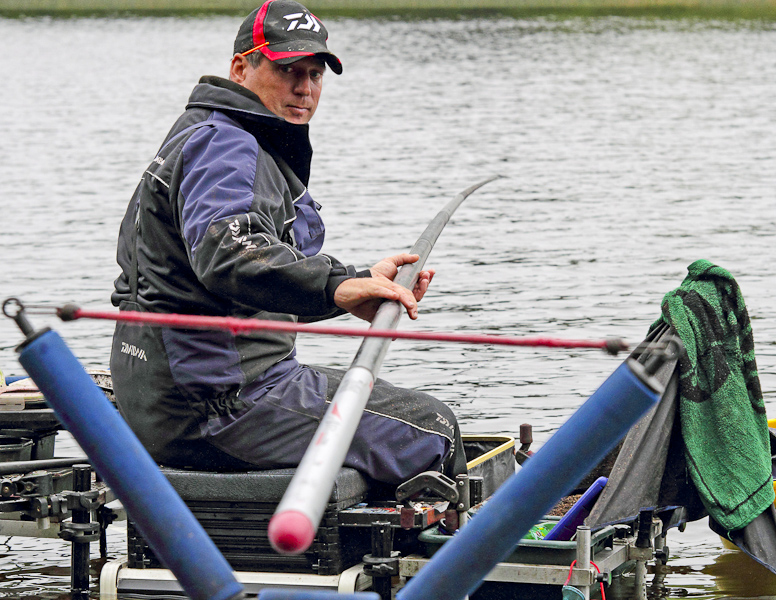 Cathal Hughes in action with his long pole, peg 10 in section 5A at Garadice lake. Going in to the last day, not only were the pairs' results on the line, but the battle for the Daiwa Cup was finely balanced. Steve Ringer began the day just over 4 kg ahead of his Irish rival. But the County Galway bagger was heading for a section that had given better weights all week, although not by much. Cathal found himself right here, on Garadice Lake, in Haughton's Shore, at peg ten: 15 kg was the best weight from the peg before the arrival of the 2010 World Champ silver medallist. After balling in at 13 meters with a groundbait mix lightly laced with chopped worm and casters, his first three casts saw three hybrids in the net before five minutes were up. «You have to just point the rod and crank them. When you hear the shockleader come into the tip ring, give it five more turns and lift» he said.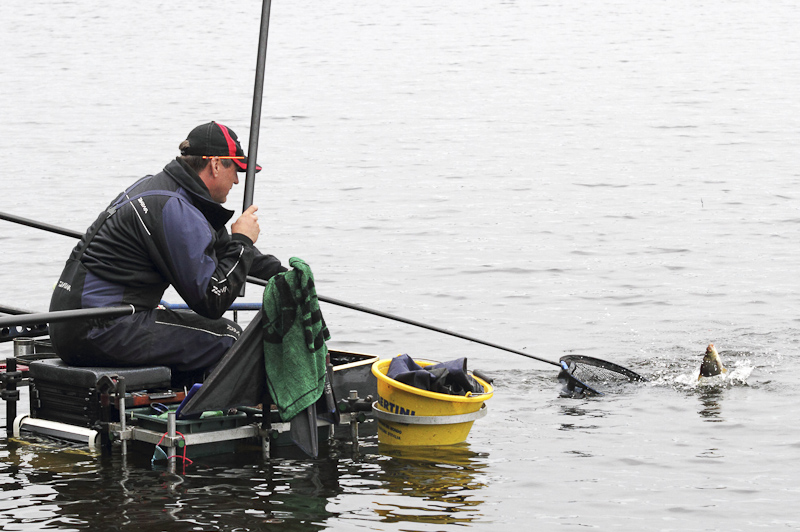 The Irishman while netting a nice breme. He won the section with 27.6 kg outdistancing of 10 kilos Lee Klimczuk, second with 17.7 kg (peg 7).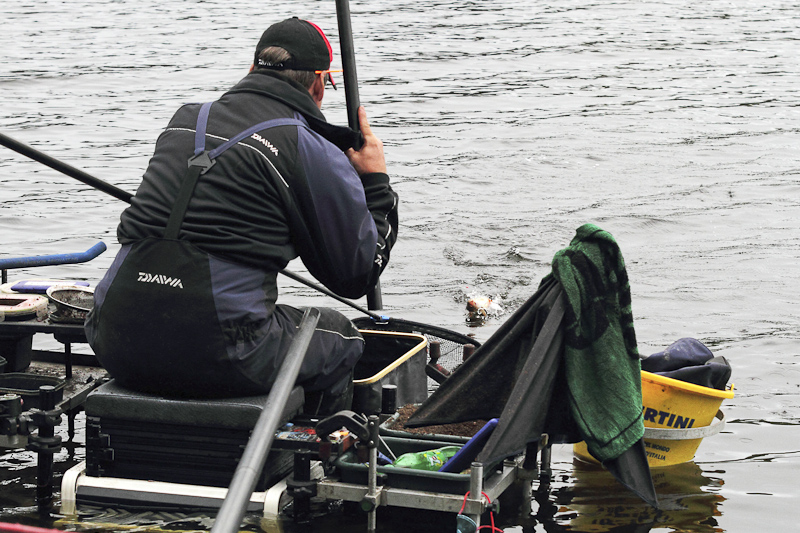 The best section all week was on the Crom Estate on Upper Lough Erne in Fermanagh (Wednesday, day 3). Both the River and Turfhouse sections gave always decent nets, but the day Cathal arrived was the day for the top weight of the week: the feeder and pole routine worked a treat on peg 12 on the Crom River and 40.180 kg was the end result of five hours of frantic fishing. He said: «It was the day I realized you need to rest the feeder line to keep the hybrids coming.» By swapping to the pole after three or four hybrids, he ensured the shoal never got spooked. A few roach on the pole line would come very fast and then he could go back on the feeder for another burst of hybrids. Also speed has had its importance, as you can read from this report by Simon Young.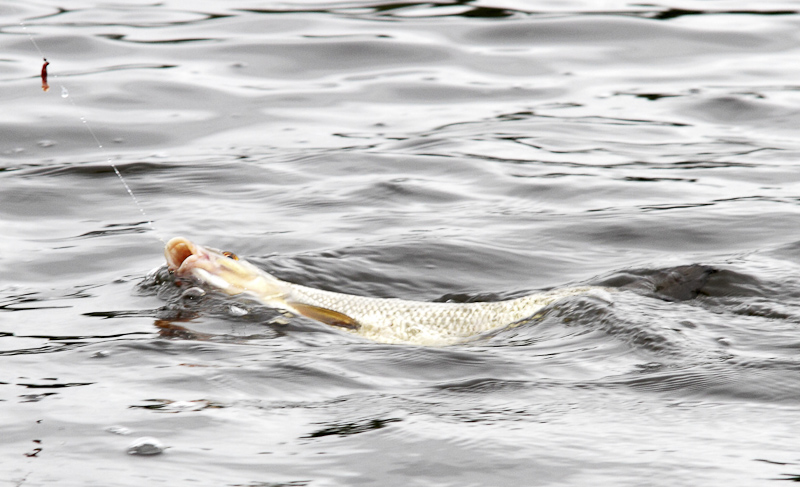 Bunches of red maggots proved to be the most successful bait for both Cathal and Jacko. These enabled the pair to pick off both hybrids and roach on either the pole or feeder (not this time: the bait seems to be an earthworm).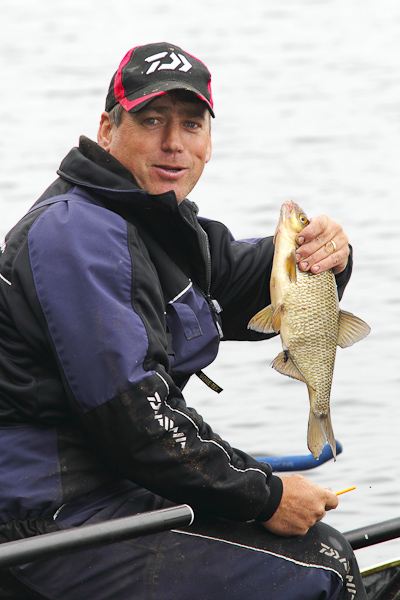 Another nice bream for the World Champs silver medallist (Merida, Spain 2010). Although being Irish residents, neither of them fish the venues used in this event. It was a first time visit to the Mud Flats section at Carrick on Shannon, but Cathal still pulled out one of his now customary section-destroying performances. «Look, we fish in Ireland all the time and we have a way of fishing that suits lots of these venues,» said Cathal, «Jacko is a bit more intense than I am, so gets to thinking about how and why things are happening and what could happen, but I just take it one day at a time.» Starting on the feeder and then resting it by swapping to the pole was a key part of their success. Cathal went on to say: «Understanding the way hybrids want to feed is a big part of it. You can't keep dropping a feeder on their heads. By resting the feeder line, you can keep going back out and add a few more quick fish.»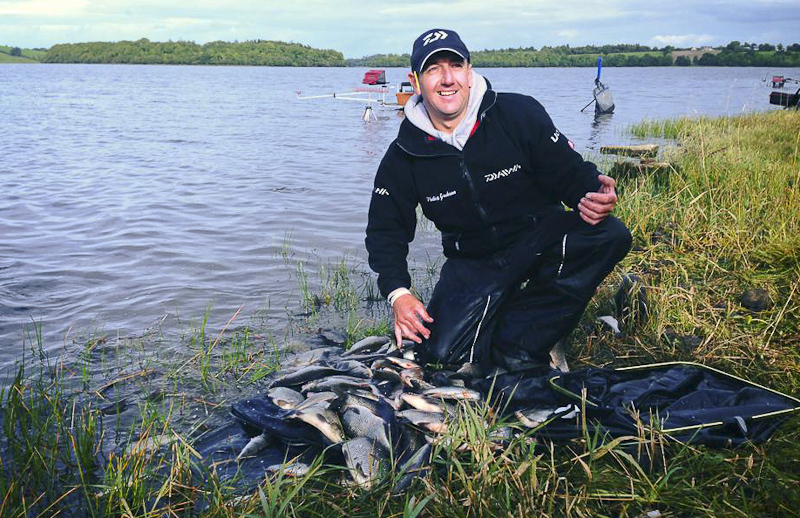 Philip 'Jacko' Jackson, the other half of the winning pair with his catch.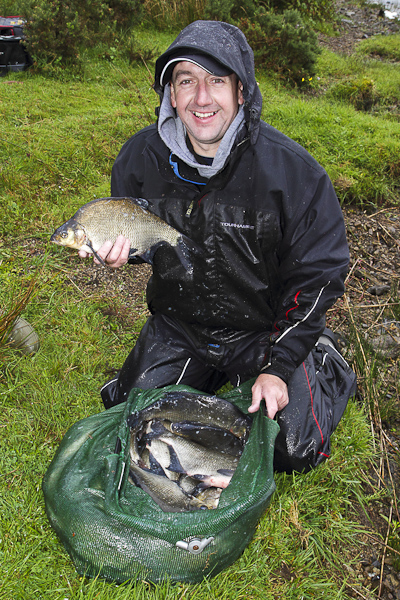 Jackson said: «It has been a brilliant week, but to be honest my best day was last Saturday: during the small practise match on Bunerky Lake, I had 35 kg in cold, horrible weather. It was a real good day and helped me get my teeth into what we had to do.» Over the course of the week there were twelve weights in excess of 30 kg (picture taken on Saturday 7th).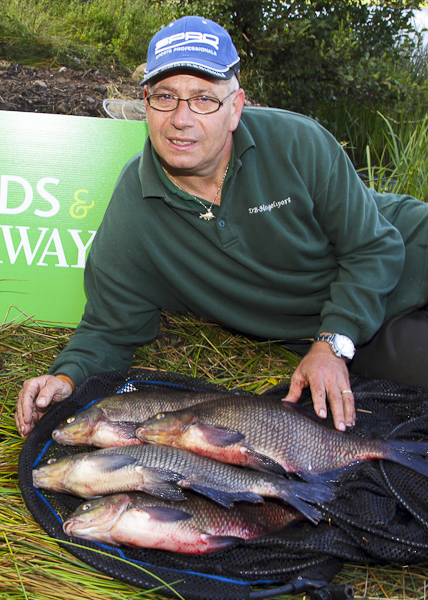 Ron Van Den Voort and his amazing catch. From Holland, he was the best placed angler from outside the UK and Ireland: his 34th place with 66.430 kg was helped by a nice catch of bream on day one on the river Shannon. Ron has been coming to Ireland to fish two festivals every day for 15 years and the World Pairs Angling Competition is firmly fixed in his diary now.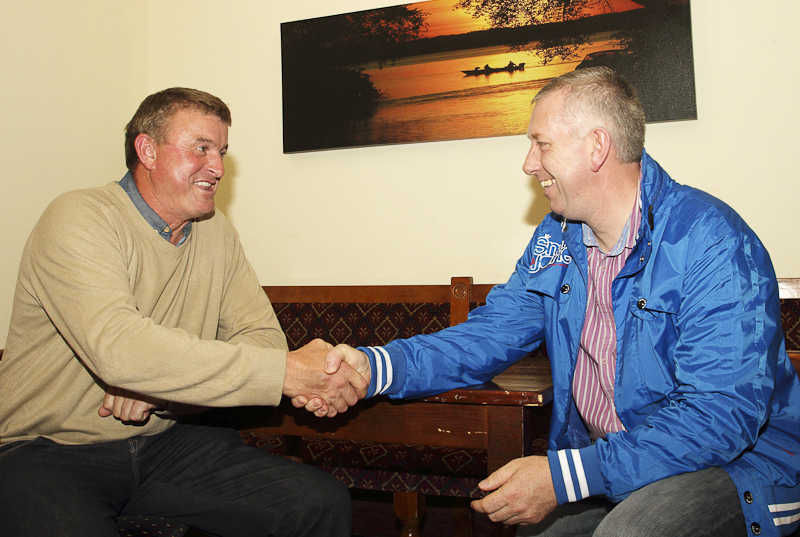 Friday evening: relax time for the living legend Kevin Ashurst. With 59.480 kg in five days Mr Ashurst has obtained the 53rd position in Daiwa Cup, anyway better than achieved by another living legend: Bob Nudd, 63rd with 57.430 kg.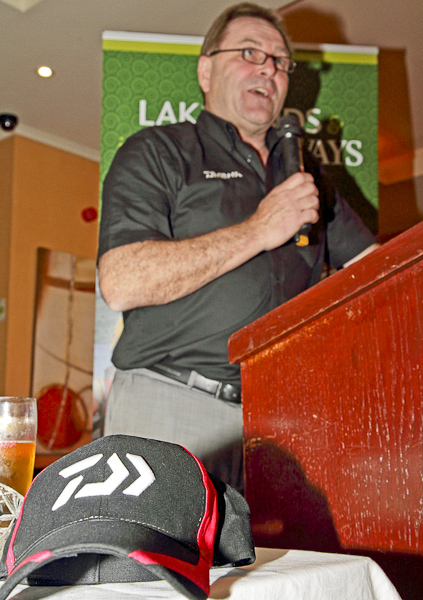 Robin Morley, Sales and Marketing Director of Daiwa Sports, gave an address in which he expressed thanks for the sponsorship that Lakelands and Inland Waterways put into the World Pairs event. By putting £8500 worth of tackle prizes and the Daiwa Cup into the individual event, the Scottish-based company continue to follow up on Robin's pledge in 2012 to support the event for at least five years. Mr Morley, who had a very successful career as a match angler for Daiwa Dorking, acknowledged the standard of angling on display at the 2013 event. He said: «It's great for fishing in Ireland that anglers of this calibre are coming to fish the World Pairs Angling Championships. Everyone fishing, and myself on behalf of Daiwa Sorts, want to thank Lakelands and Inland Waterways for the incredible sponsorship they are putting in to this event. Long may it continue.»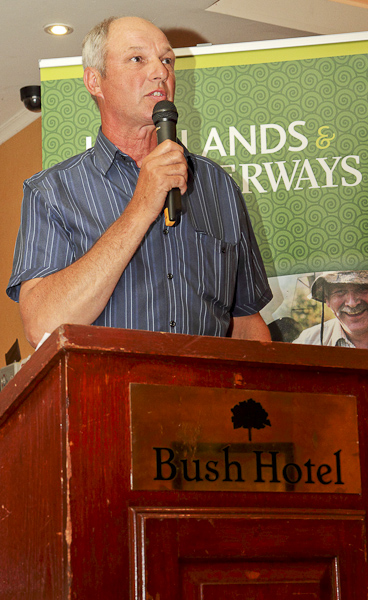 To answer the congratulations and thanks from the various dignitaries at the closing ceremony, Kevin Locke called on 1989 individual World Champion Tommy Pickering to address the audience on behalf of the anglers. The presence of a large number of the competitors is down to Tommy's promotion of the event on fisheries and matches in the UK and Europe. In his typical proud, patriotic way, he spoke at lenght about his feelings for the Lakelands and Inland Waterways World Pairs Championships. He said: «It was good last year, this year it's fantastic. One of the biggest changes is in the strength of angler fishing. Every day, at my peg, I looked down the line of anglers and saw quality. We had two of the three best match anglers ever fishing this event in Bob Nudd and Kevin Ashurst. Although it was a serious match, we had a great laugh every day. We met wonderful people in the towns and villages where we stayed. The class of angler here this week is the true test and makes this event very special. Without Lakelands and Inland Waterways support, these anglers wouldn't be here. Between them and Daiwa, one of the biggest tackle companies in the world, we anglers need to promote the event and spread the word about the welcome, the quality of sport and the standard of match that we have.»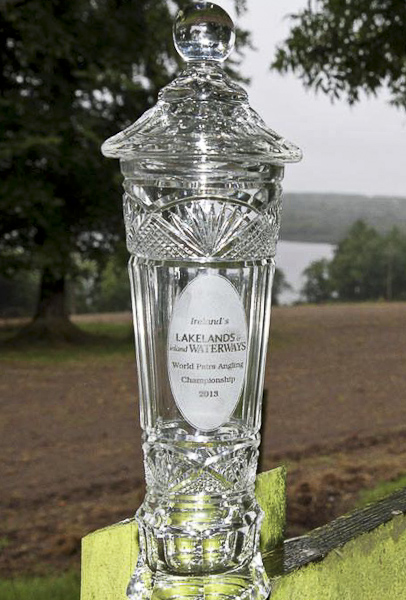 However, not everything went right: something serious has happened during day two when Mark Williams had a heart attack on the bank at Kiltybarden. The ambulance arrived within ten minutes. All the IFI stewards are first aid trained and speed really was of the essence in saving Mark's life.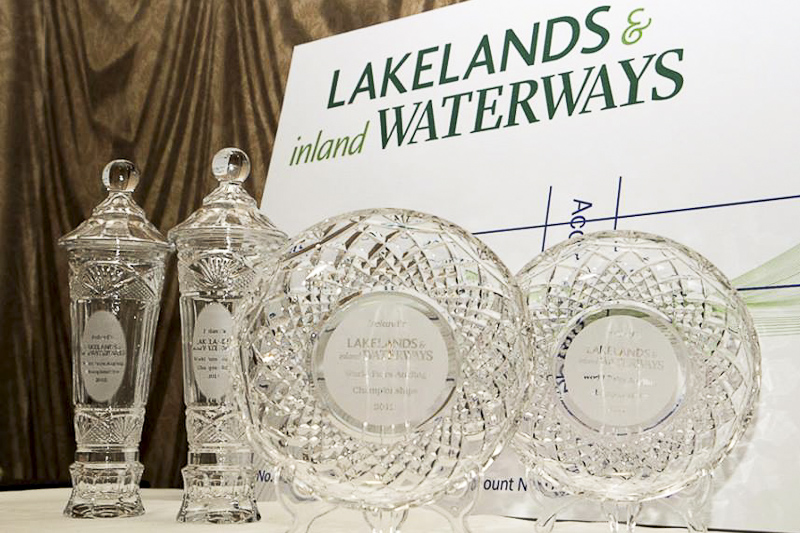 Cheers rang around the closing ceremony when Mark walked in the room, accompanied by paramedic Patrick McGreevy. Mark's two close friends Stephen and Fiona Beeby were on hand to keep make sure he wasn't overwhelmed by the occasion. Mark finished by saying: «My partner and four boys all wanted to fly over, but I said I was fine and not to bother. I was amongst good friends and with a new friend in Patrick. He tells me the air ambulance is threatened with closure due to budget cuts. Without that, and people like Patrick and Shane, I would not be here to tell this story and would not be fishing this great event next year.»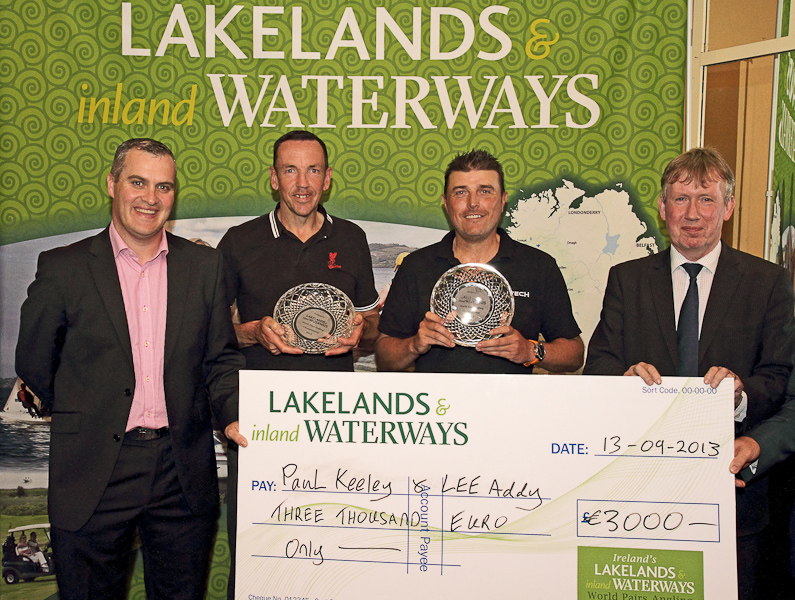 Third pair (with a total weight of 164.580kg): Paul Keeley and Lee Addy with Damian McWheeny (Waterways Ireland) and Eddie McGovern (Fermanagh District Council). Lee is Mark Addy's song, England Team Manager, in those days engaged in the world championship in Poland.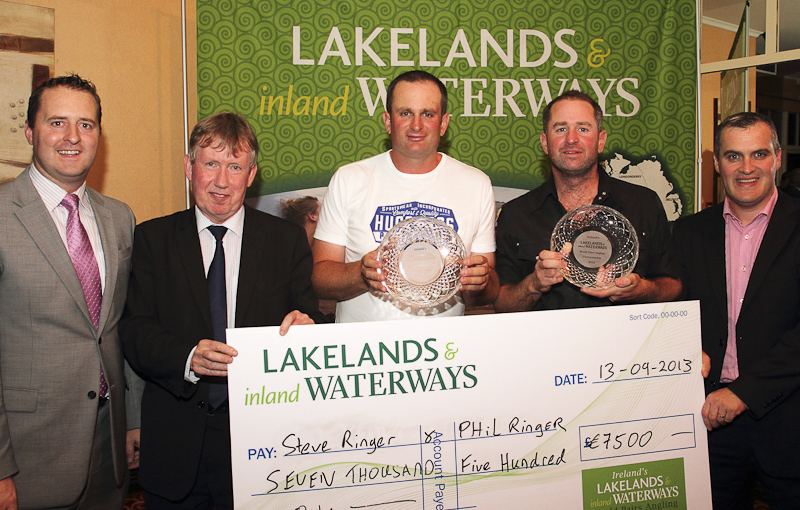 Ringer brothers, Steve and Phil, collect trophies from Michael Fitzsimons (Failtre Ireland), Eddie McGovern (Fermanagh District Council) and Damian McWheeny (Waterways Ireland). Steve and Phil had a great week despite not getting their hands on the main prize. On they first ever visit to fish in Ireland, they gradually crept through the field to claim the €7,500 for second-place (total weight 167.100 kg). «We have both really enjoyed our week here,» Phil said, «Getting to the venues each day was very easy, the fishing was incredible apart for one poor day for me on Airport and we've had help everywhere from the locals.»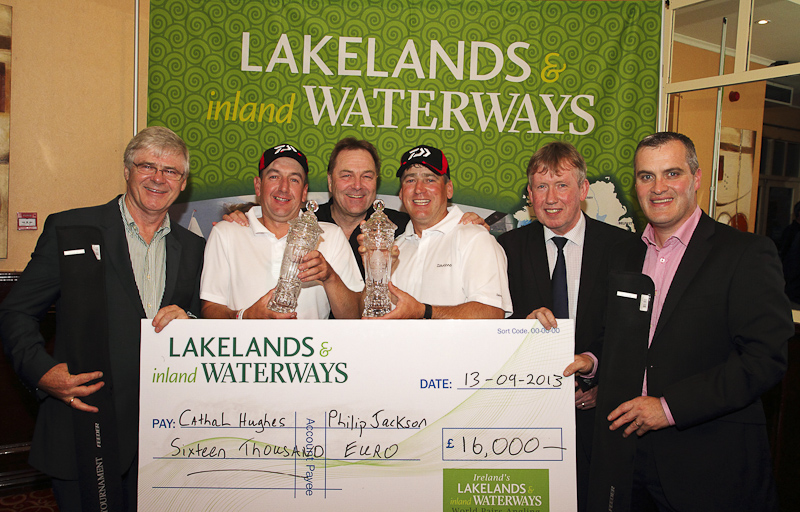 Colm Breheny (Failtre Ireland), Philip Jackson, Robin Morley (Daiwa Sports), Cathal Huges, Eddie McGovern (Fermanagh District Council) and Damian McWheeny (Waterways Ireland). «We will fish to win, but without going stupid,» Jackson said on day one, «We know that there will be some pegs where 5 or 6 kg will be a good weight. There's no point trying to do too much, the better pegs will come and then we'll take advantage.» And take advantage they certainly did: 185.280 kg for them.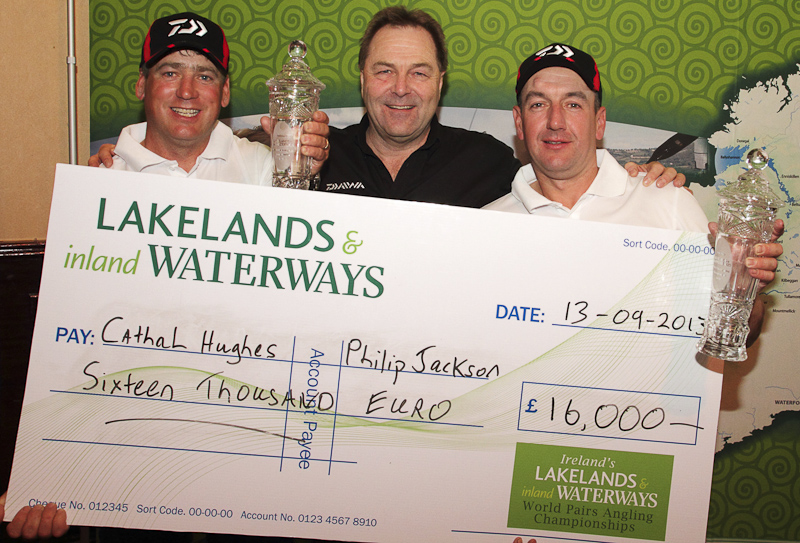 "They say that lighting doesn't strike twice, but talented Irish anglers Philip 'Jacko' Jackson and Cathal Hughes proved that wrong and walked off with the €16,000 winners cheque and Irish crystal vases. Defending their 2012 title, the lads from either side of the border came togheter again to defeat a stronger field in this, the second year of the event. With a massive 185.280 kg over the five days fishing, they comfortably held off second-placed Steve and Phil Ringer." With these words begins the match report of this 2013 event.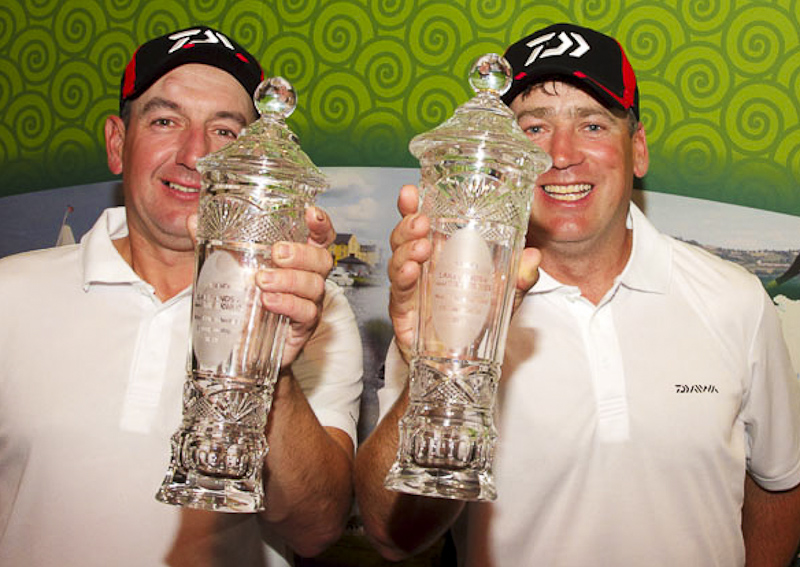 Northern Ireland/Republic of Ireland pair, Philip Jackson and Cathal Hughes, retained their crown as Lakelands and Inland Waterways World Pairs Angling Championship. Congratulations.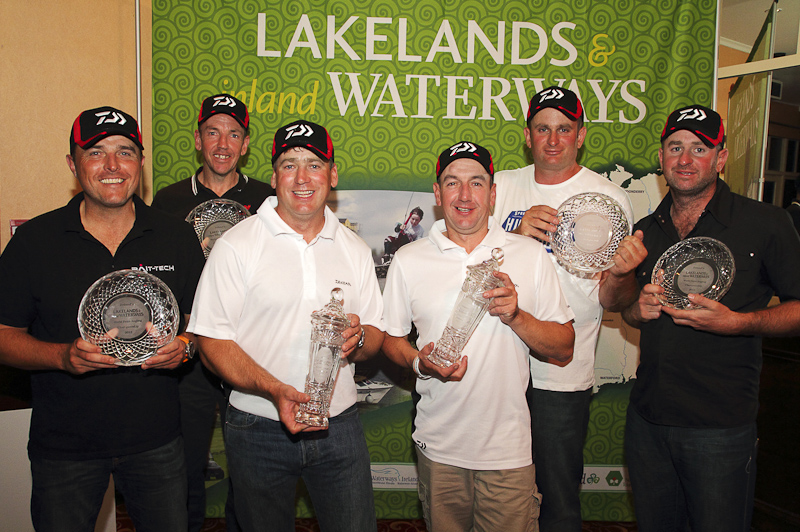 The three best pairs of the 2013 edition.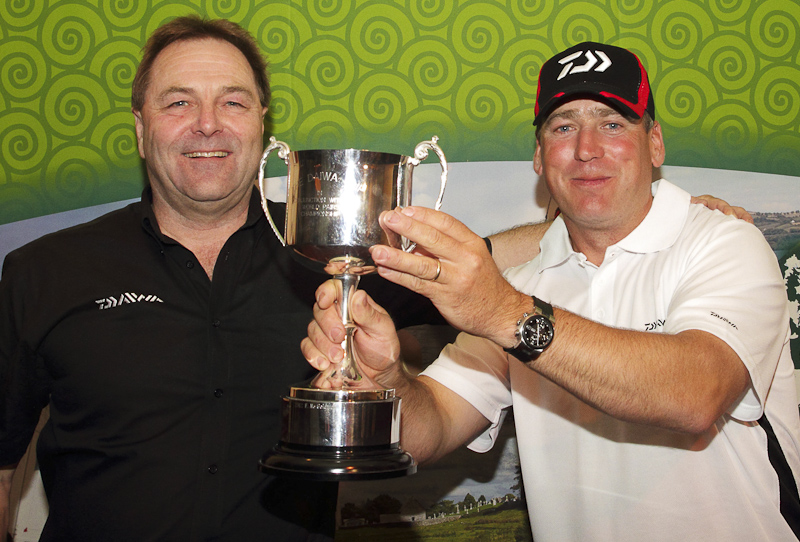 Cathal Hughes also won the individual title, and of course the second edition of Daiwa Cup (107.430 kg for him). Second place for Steve Ringer with 102.140 kg and third Peter Jones with 96.430. I don't know why Cathal wasn't in Poland with the Irish team, however I guess that satisfactions are not missed to him.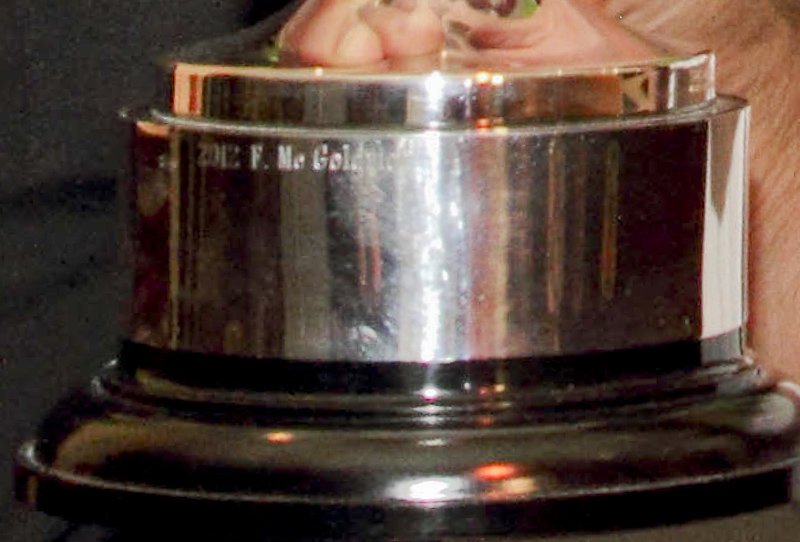 Sorry for the low quality of this picture, but it's just an enlargement of the previous one. An interesting particular: on the basis of the Daiwa Cup can be read: "2012 F. McGoldrick", Irish like Cathal. This means that on it will be inscribed the individual winner's name of every edition, just as happens to the individual Men's World Championship cup. This was not a brilliant edition for Frances: 12nd in the individual ranking with 81.640 kg and just 9th in pair with Dave Brettell (155.470 kg pair weight).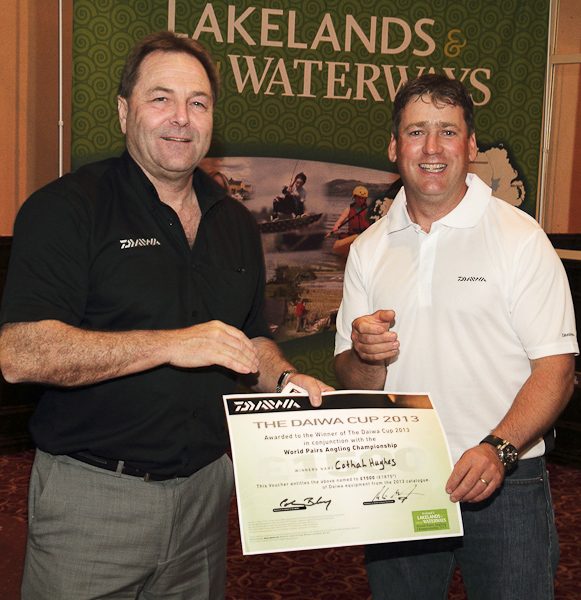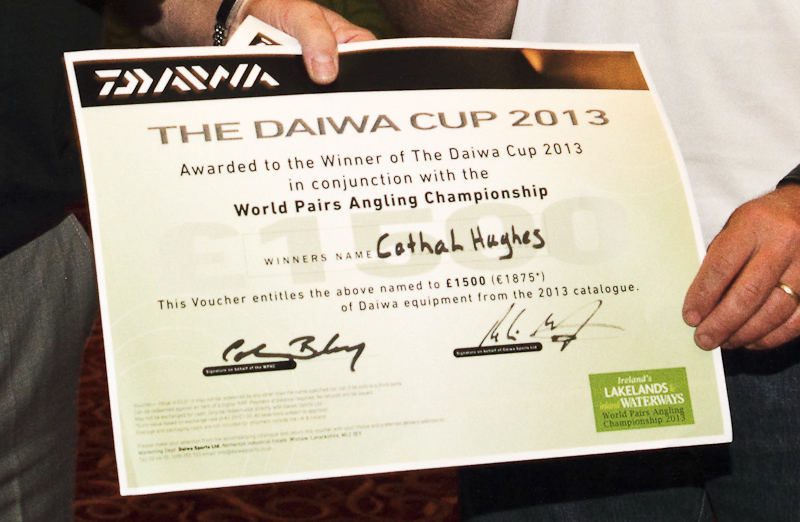 Robin Morley congratulates Daiwa Cup champ Cathal Hughes, and also gives him another welcome prize.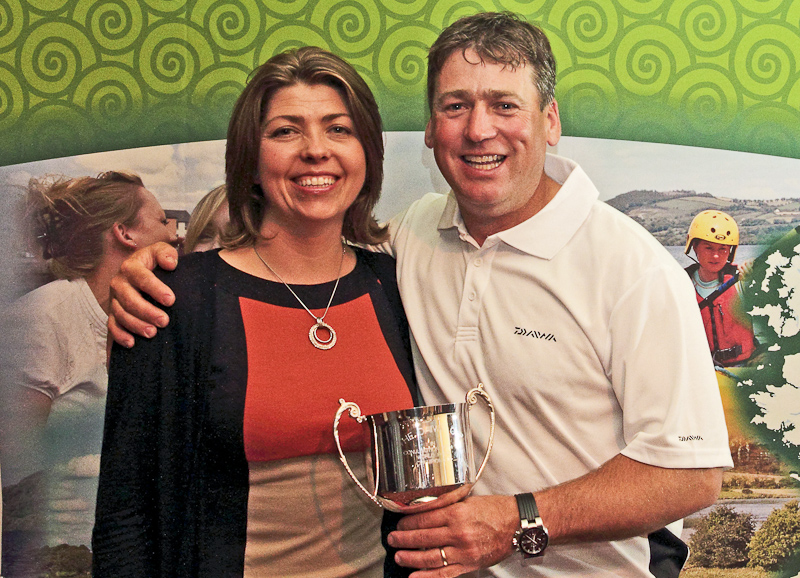 Cathal shares the glory whit his wife Yvonne.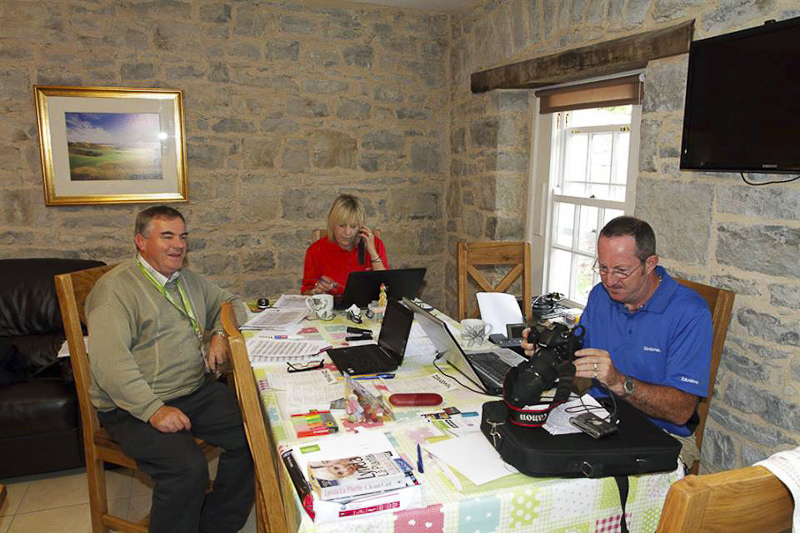 A great event, no doubt, only I wonder why it was chosen the same week of the senior men's World Championship. There were famous names and living legends, but many others would be able to come if they were free from engagements with Irish and British teams. We hope that next year there will be no more this overlap. A special mention goes to some people who have worked hard day and night, on the field and in front of a computer monitor, to ensure that everything was going well for the anglers: Michael Fitzpatrick, Helen Rainsford and Steve Lockett.
About the Author