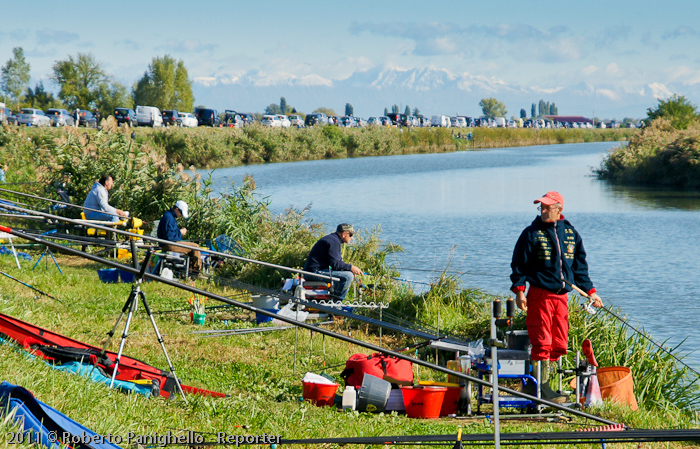 Its name is A2 serie but there is nothing about it that resembles a
premium league, which in Italic peninsula is called Eccellenza.
The A2 is equivalent of a local second division regarding teams based
in north-east of the territory, whereas A1 regards regions of west
country, A3 the nothern of central peninsula and so on. At the end of
regular season the first teams placed in each "A" group gets
promoted to the major league, the Eccellenza,
whose final two matches will be disputed at the end of October, on
canal Ostellato (yes, the same of the recent World Championship).
Perhaps I'll be there to shot some pictures, but remember: this'isnt
a promise! Now, what happened last Sunday on Brian banks? It flows 52
kilometres north of Venice, through the flat venetian country up to
the river Livenza mouth, where it ends in. It's 5.5 metres in depth,
large about 45 metres, rich in crucians and rudds; it really is the
proper water for fishing English-style. The picture above shows a
very clean view that allows to see as far as the Alps freshly
snow-capped.
Anche se la chiamano serie A2, di una una serie pro non ha nulla, che
invece nella penisola italica prende il nome di Eccellenza. L'A2 è
l'equivalente di una seconda divisione in cui gareggiano squadre del
nord est; allo stesso modo l'A1 interessa quelle delle regioni
dell'ovest, l'A3 della parte settentrionale del centro e così via.
Alla fine della stagione regolare i primi team classificati di ogni
gruppo vengono promossi nell'Eccellenza, le cui ultime due gare
quest'anno si disputeranno alla fine di ottobre in quel di Ostellato.
Forse andrò a seguirle per fare qualche scatto, ma non è una
promessa! Cosa è accaduto domenica sul Brian? Questo canale scorre
52 chilometri a nord di Venezia, attraversa la pianura veneta e
termina il suo corso gettandosi nella foce del Livenza. Presenta una
profondità massima di 5 metri e mezzo, una larghezza di circa 45
metri ed è ricco di carassi e scardole. Già dalla foto di apertura
ci si può fare un'idea di questa giornata, caratterizzata da un'aria
fredda e limpida che mostra le Alpi friulane ricoperte di neve.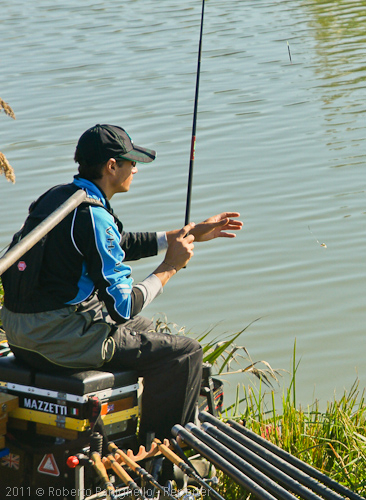 The weather had been summerlike until Thursday 6, but during the same day an oncoming atlantic perturbation brought rain and strong gales. Nights and mornings became suddenly cold; in addition to the clima, the level of the canal got 70 centimetres lower overnight. Many
anglers were forced looking for micro-bleaks using micro-whips, just
like Marco Mazzetti of the team Città del Rubicone, photographed
below on his amazing ASI while catching a minnow. Marco has been
senior individual Italic champion in the 90s when he was still a
teenager, a goldenboy maybe too young to maintain such high levels.
What a pity! Fourth in his section catching only 380 grams (each
section contains ten anglers).
Il clima era rimasto estivo fino al giovedì, per poi cambiare
drasticamente a causa di una perturbazione atlantica. Non solo la
temperatura si è abbassata repentinamente, ma altrettanto ha fatto
il livello del canale, sceso di 70 cm da un giorno all'altro. In
molti sono stati costretti ad adattarsi pescando alborelline
microscopiche sotto riva, proprio come Marco Mazzetti del team Città
del Rubicone, ripreso seduto sopra il suo magnifico ASI mentre
cattura un quasi avannotto. Marco è stato campione italico
individuale durante gli anni 90 quando era ancora un ragazzino, forse
ad un'età troppo giovane per quel titolo. Peccato! Si è
classificato quarto nel suo settore con 380 grammi.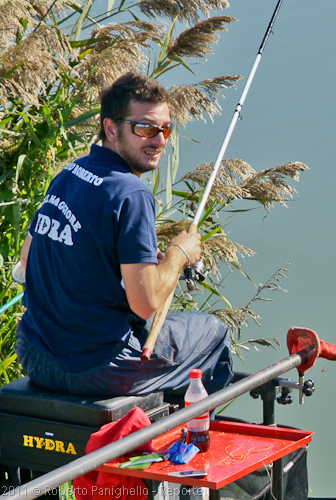 The international presence of the A2 serie: Roberto Cuomo. Swiss, today he competes for the team Castelmaggiore (Bologna). Not a good day for him either, but English style is… not his style: better, much
better with the roubaisienne. Last in his section with 330 grams.
Il tocco di internazionalità dell'A2: Roberto Cuomo. Svizzero, gareggia
per il team Castelmaggiore di Bologna. Non è stata una gran giornata
nemmeno per lui, ma la pesca all'inglese non è la sua preferita.
Decisamente meglio quando c'è da usare una roubaisienne.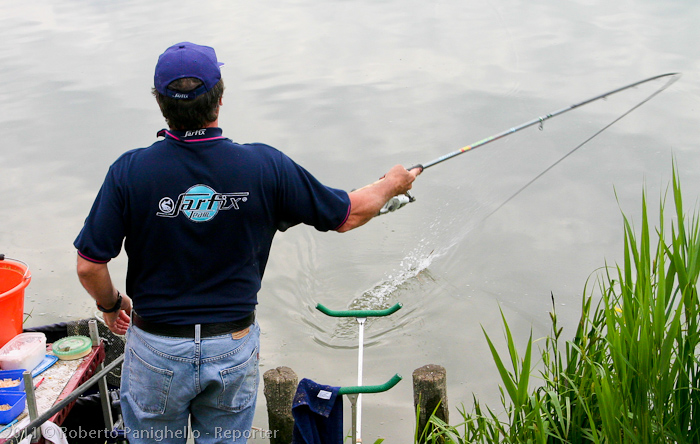 Look carefully at this picture taken two years ago always on the Brian
banks. You can read the Sarfix logo on the polo shirt back, an Italic
angling brand based in Bologna and founded by Mr Walter Soverini many years ago. This historical brand has recently gone bankrupt following the destiny of Triana, another well-known company disappeared in 2009. Please note: the current international financial crisis has nothing to do with these trade failures.

Guardate attentamente questa foto scattata un paio d'anni fa sempre lungo le
sponde del canale Brian. Il brand Sarfix stampato sulla polo di
questo concorrente è quello di dell'azienda bolognese fondata dal
Signor Walter Soverini molti anni fa. Lo storico marchio oggi non
esiste più, fallito seguendo un destino simile a quello di Triana,
altra ditta ben nota sparita nel 2009. Ma fate attenzione: la crisi
economico-finanziaria nulla ha a che vedere con questi fallimenti commerciali.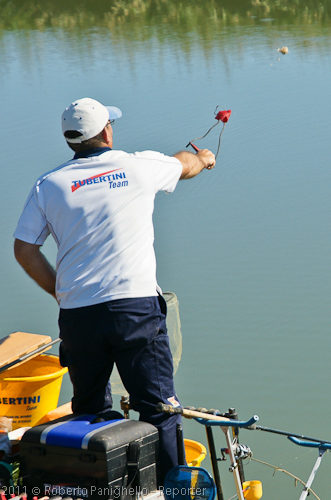 Groundbait ball launched to the opposite bank. In Brian, the most interesting fishing lines are on the other part, near the canes. Right there an angler can win or lose his match. There are some rare spots completly clean in canes, and unfortunately clean for opportunities: these spots are sadly known as "Crying Walls"…
Lancio di pastura con la fionda. Sul Brian le linee di pesca più
interessanti si trovano in prossimità dell'altra sponda, a ridosso
del canneto. È lì che in condizioni normali si vincono o perdono le
gare. Esistono anche alcuni picchetti privi di vegetazione sulla riva
opposta, così come lo sono di opportunità: sono i tristemente noti
"Muri del Pianto".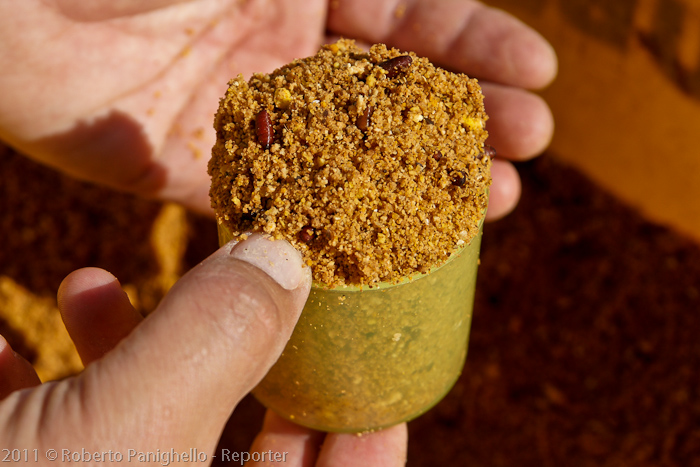 All of you certain know qualities of a good groundbait for crucians and
rudds, but someone may not know a little trick to feed at a constant distance…
Sicuramente conoscete già le caratteristiche che deve avere una buona pastura da
carassi e scardole, ma qualcuno potrebbe non sapere di un piccolo
trucco per ottenere distanze di lancio precise…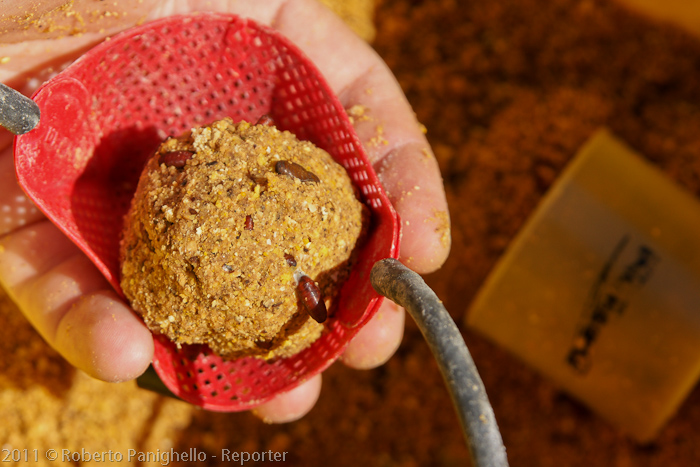 Using a little bait-box to pick the groundbait up allows to obtain a little
ball of a mandarin size, always with the same weight. It represents
the first step for an accurate launch.
Usando una piccola scatola per raccogliere la pastura dal secchio, si
possono confezionare palline omegenee della stessa dimensione e peso.
Questo è il primo passo alla base di una pasturazione accurata.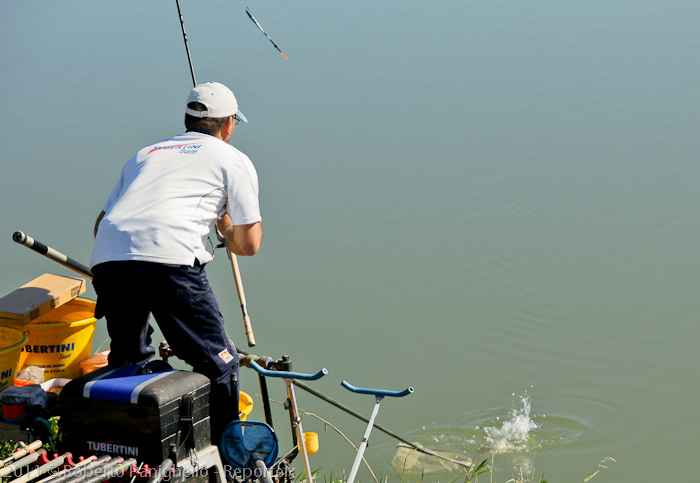 The picture shows Thomas Busatto (team River Club, city of Padua)
catching a small crucian with a traditional fixed match line. The
fish bit close to the canes.
L'immagine mostra Thomas Busatto del team River Club Padova mentre cattura un
piccolo carassio con una classica lenza fissa all'inglese. Questo
pesce è stato catturato a ridosso del canneto.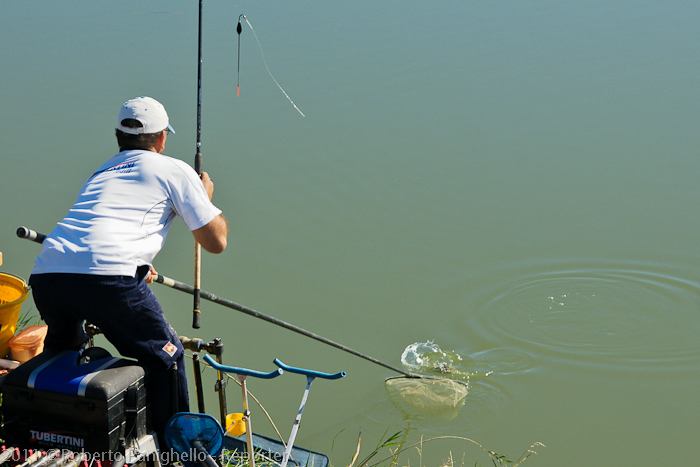 Look at now this image: if you think it's the same as the previous…
you're wrong! Look carefully down the 20 grams wagglers: differences
are there. That time the crucian was  caught in slider fishing at ¾
of the canal, on the second grounbaited line. During hard days like
these, when fishing is scarce and extremely tecnical, foremost comes
the precision with the catapult. As soon as possible I'll realize an
article with Thomas regarding his particular way to build and use the
slider with braid. Yes, this is a promise!
Guardate adesso questa immagine: se pensate che sia uguale alla precedente…
ebbene vi state sbagliando. Volgete lo sguardo sotto ai due
galleggianti da 20 grammi: le differenze stanno lì. Stavolta il
carassio è stato catturato con lo scorrevole a ¾ di canale, sulla
seconda linea pasturata. Nelle giornate difficili come queste, quando
la pesca è estremamente povera e tecnica, la precisione nella
pasturazione viene prima di tutto. Quanto prima realizzerò un
articolo con Thomas riguardo proprio al suo modo di costruire e usare
la treccia per lo scorrevole. Questa sì è una promessa!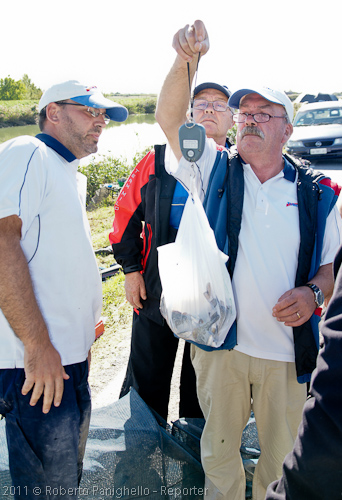 Behind Busatto father and son, Mr Ruggero Marcellan: he's a piece of
matchfishing story in northern peninsula. Thomas got the second
position in his section with 1550 grams, 100 grams short of  the
winner although he lost a big chub hardly after the start signal.
Anyway a positive result for the venetian angler, because it allowed
to him to win the A2 serie individual classification (second position
yet for his team in final result, therefore promoted to next
Eccellenza championship).
Alle spalle di Busatto padre e figlio potete vedere il Signor Ruggero
Marcellan, un pezzo di storia dell'agonismo al colpo nordista. Thomas
è riuscito a ottenere la seconda posizione nel suo settore con 1550
grammi, a un etto dal vincitore, questo pur perdendo un grosso
cavedano appena dopo il fischio d'inizio. Si è trattato comunque di
un risultato positivo per il veneziano poiché gli ha permesso di
vincere la classifica individuale della A2 (oltreché classificarsi
secondo assoluto con il suo team, e pertanto promosso alla prossima
edizione dell'Eccellenza).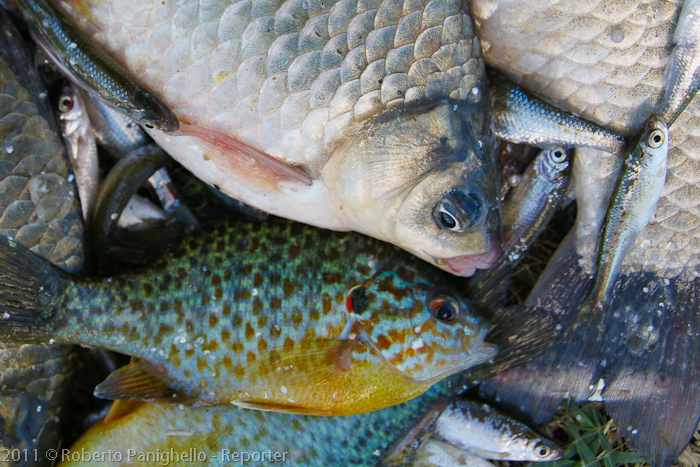 A particular regarding this photo is the weighing method: rules allow
to use a new-wet-plastic bag for each angler's keepnet. This gets
scales and protective mucus off the fish skin, exposing animals to
the risk of parasites and every sort of ills. After being weighed,
fish are not free but get thrown back into the keepnets until the end
of overall weighing operations. A real nonsense!
Again: Italic anglers don't use a second keepnet for small fish, which,
being so tiny, are vulnerable when kept together with bigger ones. By
the way the only certainty you have seeing the image is that many
bleaks are dead already, while other will die shortly after
release… and after a long agony. Really stupid, absurd rules!
Un appunto lo faccio al metodo di pesatura: il regolamento permette di
usare un nuovo sacchetto di plastica per quantificare il pescato di
ciascun concorrente. Questo procedimento è dannoso al pesce poiché
gli toglie scaglie e muco dalla pelle esponendolo al rischio di
parassiti e malattie. Inoltre dopo la pesatura non viene subito
liberato ma reintrodotto nelle nasse fino alla fine delle operazioni.
Solo allora tornerà al canale. Ancora: i garisti italici non usano
una seconda nassa per i piccoli pesci, che invece sono costretti a
condividere la stessa struttura con quelli più grossi, rischiando di
venirne danneggiati. Ad ogni modo, l'unica cosa certa che potete
vedere in questa foto è che molte piccole alborelle sono già morte,
mentre le sopravissute lo saranno ancora per poco dopo il rilascio.
Veramente uno sciocco, assurdo modo di procedere. Da rivedere.
About the Author