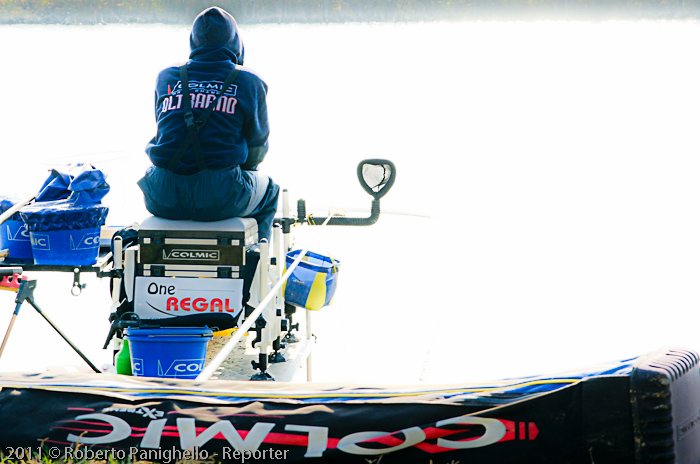 In my previous articles I always carefully avoided using terms like Italy and Italian, preferring to replace them with Italic peninsula and Italics. Not this time, as you can read in the title. Why? Did I make a mistake? No: my interest for modern history has led me to develop a full knowledge of what were the real reason that led to the creation of the unitary Italiot state: it was a sad, business event wanted by the British Empire to contrast the dangerous frenchification of the big salt lake called Mediterranean Sea. During the nineteenth century Lord Palmerston and William Gladstone decreed the birth of a politically insignificant, debt-ridden statelet governed by a relative of Queen Victoria. So began the agony of the Kingdom of the Two Sicilies and of the others ancient reigns of the peninsula, and accordingly, so began the martyrdom of the Italic peoples, forced to endure a tragedy after another. Sometimes the truth doesn't correspond to the lies reported in the official hagiographic versions, but must be sought from the wounds of history. A uncomfortable truth that some politician should be ashamed of, instead of showing off a glory that doesn't exist, as it has never existed an Italiot version of the Duke of Lauenburg. If you're wondering what's taught to children in Italic schools, I reply with a typical American word I've always heard in American movies: bullshits.
Well, I'd like to deepen the argument: many interesting facts can be found among the recesses of the British Empire and of the brief savojan reign, but unluckily this is just a sportfishing site! So, now you understand why I don't love the masonic affair called Italy, but haven't yet clarified about the title: why did I maintain the word Italian in it? For a matter of respect: during the 2011 world champioship disputed here on Ostellato banks only 200 anglers competed, a lot less of the 900 entries for this event. You can understand the big efforts by the organizers. Is that all? No, there's yet another reason… By the way, I hope I haven't distracted you from the halieutic content of this article: the picture you see above is the best among those taken during the match.
Nei miei precedenti articoli ho sempre evitato di usare termini come Italia e italiano, preferendo rimpiazzarli con penisola italica e italico. Ma non questa volta, come potete leggere dal titolo. Perché? La mia passione per lo studio della storia moderna mi ha portato alla conoscenza delle reali cause che determinarono la creazione dello stato unitario italiota: una triste vicenda voluta dall'Impero Britannico allo scopo di contrastare la pericolosa francesizzazione del grande lago salato chiamato Mar Mediterraneo. Durante il diciannovesimo secolo furono Lord Palmerston e William Gladstone a decretare la nascita di un insignificante e indebitato staterello governato da un parente delle regina Vittoria. Così iniziò l'agonia del Regno delle Due Sicilie e degli altri antichi governi nella penisola, e sopratutto fu così che ebbe inizio il martirio dei popoli italici, costretti a subire una tragedia dietro l'altra. Spesso la verità non va cercata tra le pagine delle versioni agiografiche ufficiali, quanto piuttosto tra le piaghe della storia. Una verità scomoda che dovrebbe far arrossire di vergogna molti politici, i quali invece continuano a pavoneggiarsi di una gloria inesistente, così come non è mai esistita una versione italiota del duca di Lauenburg. Mi piacerebbe approfondire l'argomento: non avete idea di quante cose interessanti si possano scovare tra le piaghe dell'Impero Britannico e del breve regnuncolo savojardo, ma sfortunatamente questo è solo un sito di pesca sportiva! Sicché ora comprendete perché non amo la cosa chiamata Italia, tuttavia non vi ho ancora spiegato la scelta del titolo, ovvero il motivo per cui ho deciso di mantenerci il termine Italian. L'ho fatto per una questione di rispetto: durante il mondiale di quest'anno sono arrivati a pescare al massimo 200 concorrenti, molti di meno dei 900 partecipanti a questo evento. Potete immaginare il duro lavoro svolto dagli organizzatori affinché le cose filassero per il verso giusto. Tutto qui? No, c'è anche un'altra ragione… A proposito, spero di non avervi distratto dai contenuti alieutici di questo articolo: la foto che vedete qui sopra è la migliore tra tutte quelle scattate durante la gara.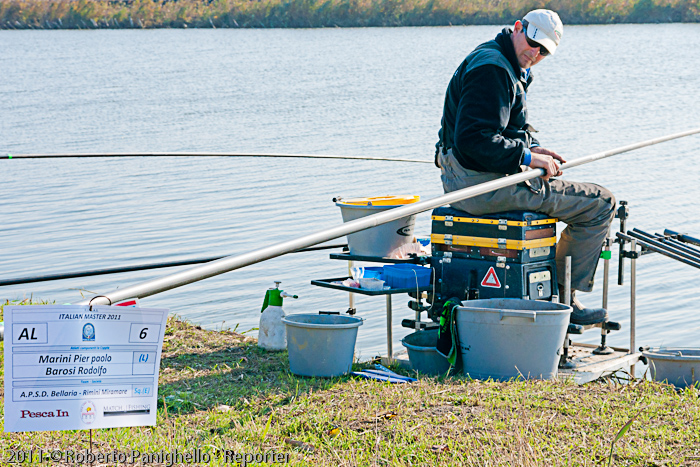 The angler who was using an ASI seatbox is always worth a picture.
Il garista che usa un ASI merita sempre una foto.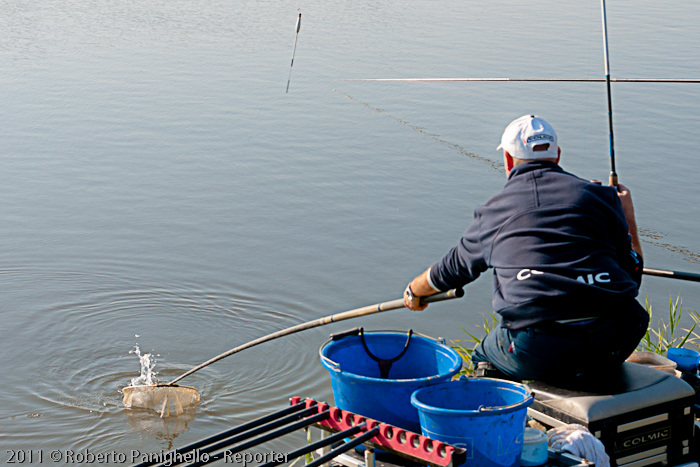 Falsini in action with the match rod. Note the black tip on his waggler: wind combined with hard light conditions forced this solution.
Falsini in azione con la match rod. Notate l'antenna nera sul suo waggler: vento unito a condizioni di luce difficili obbligano a questa soluzione.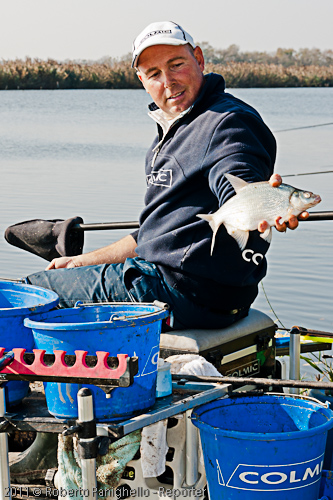 Canal Ostellato is just around 2 metres deep and water is completely still; this means that the temperature variations are quickly transferred to the lower layers where the fish usually stay. The cold of these days has had an impact on animal behaviors. Falsini e Fini have caught just 3970 grams obtaining the second position on their sector.
Il canale di Ostellato ha una profondità media attorno ai 2 metri e un'acqua completamente ferma; questo significa che le variazioni di temperatura vengono trasmesse rapidamente agli strati inferiori dove staziona il pesce. Il freddo di questi giorni ha avuto un impatto sul comportamento degli animali. Falsini e Fini hanno catturato solo 3970 grammi classificandosi secondi nel loro settore.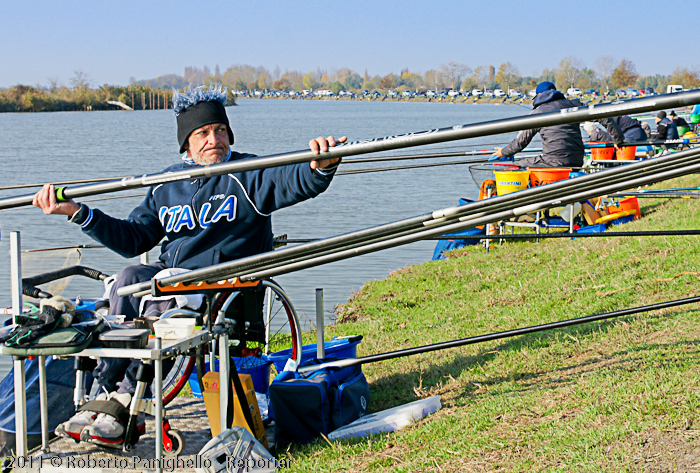 The canal is very long and there are some matchfishing areas: the one I've always made my reports from is called Le Vallette (just like the oasis) and is completly clear of canes on the angling bank. This venue is ideal for people with disabilities.
Il canale è molto lungo e dispone di alcune zone adibite a campo gara: quella in cui ho sempre realizzato i miei reports è chiamata Le Vallette ed è completamente priva di canneto. Questa zona è ideale per le persone con disabilità fisiche.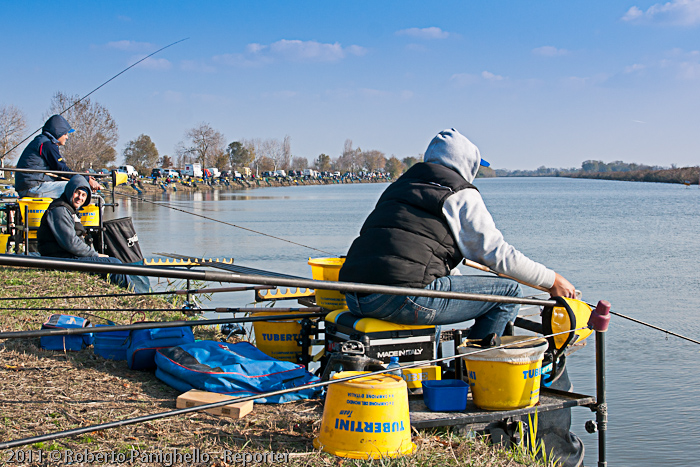 3/4 of Lenza Emiliana. Giuliano Prandi, Simone Carraro and Ferruccio Gabba are unrecognizable. It's blowing a cold wind behind them…
Tre quarti di Lenza Emiliana. Giuliano Prandi, Simone Carraro e Ferruccio Gabba sono irriconoscibili. È freddo il vento che soffia alle loro spalle…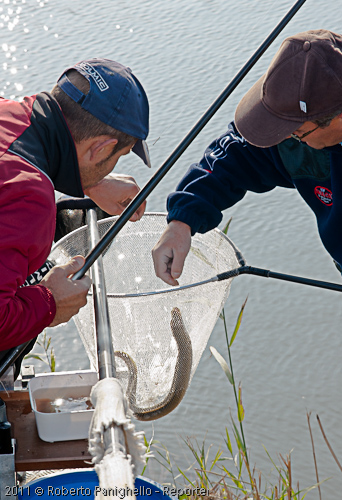 Marco Fantauzzi e Angelo Grapeggia with a nice eel just netted. A good prey for the matchangler, a good bait for the predangler.
Marco Fantauzzi e Angelo Grapeggia con una bella anguilla appena guadinata. Una buona preda per il garista, una buona esca per il predangler.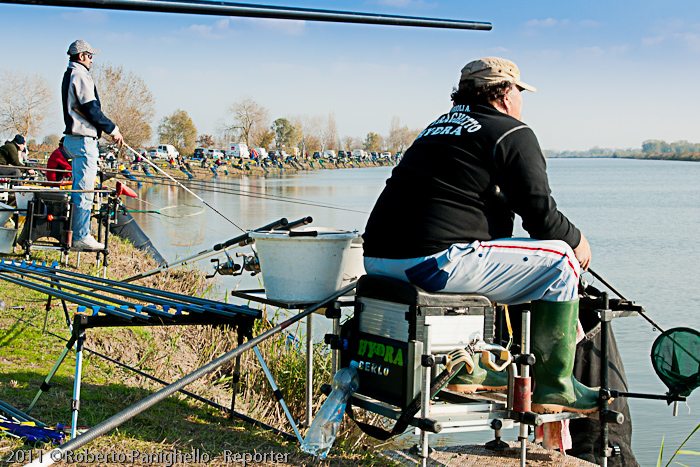 Two elements of Castelmaggiore: Alessandro Ferioli and Roberto Cuomo.
Due elementi della Castelmaggiore: Alessandro Ferioli e Roberto Cuomo.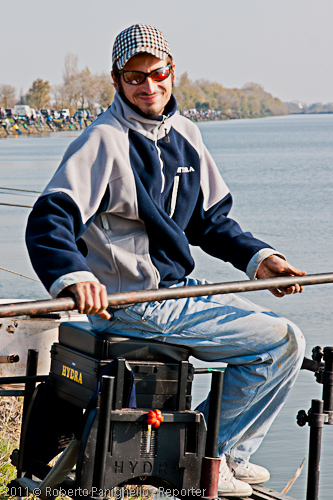 Swiss angler Roberto Cuomo with his questionable hat.
Il garista svizzero Roberto Cuomo con il suo discutibile berretto.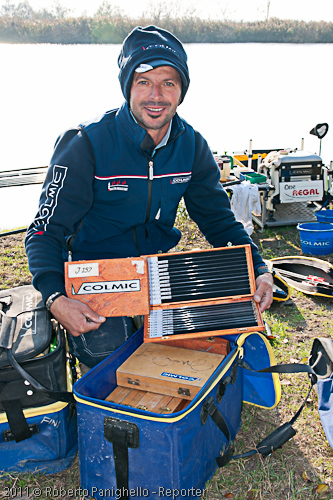 End of the match: Fini's showing to the lens his hooks collection.
Fine gara: Fini mostra all'obiettivo la sua collezione di ami.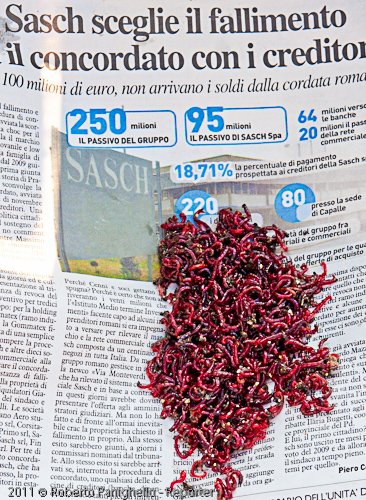 Fini's not used vers de vase. The title of the newspaper is "Sasch chooses the bankruptcy": Sasch was a famous clothing company based in Florence which decided last 17 October to close its activities. That's not the only one in the Italic peninsula…
I vers de vase avanzati da Fini. Il titolo del giornale dice "Sasch sceglie il fallimento": si tratta di una famosa azienda di abbigliamento con sede a Firenze che lo scorso 17 ottobre ha deciso di presentare istanza di fallimento. Non è l'unica nella penisola italica…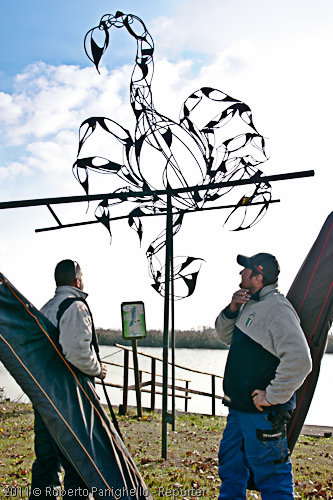 The famous giant skorpion of Ostellato.
Il famoso scorpione gigante di Ostellato.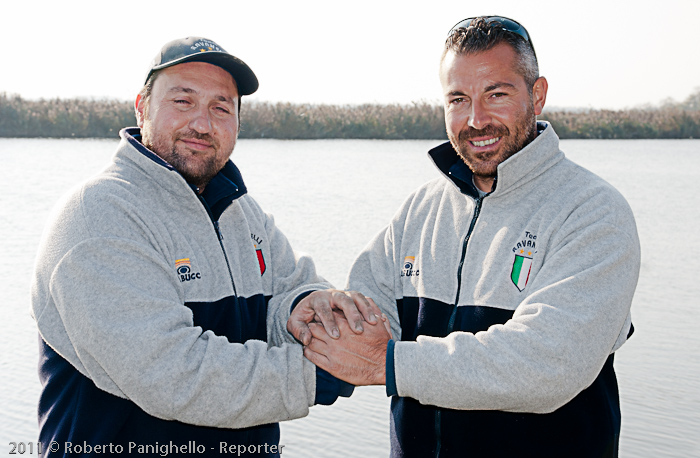 Paolo Cauzzi and Maurizio Fedeli of Ravanelli's team B. They've just beaten the golden pair Fini/Falsini winning their sector with 4110 grams, anyway not enough for a good final team result. The 1000 euros prize went to the club Il Vairone. Yes, only that's the cash prize for the winner and loose change for the first classified pair of each sector: for reasons I've never understood, in Italic peninsula the awards always come in the form of salamis, sausages, tin cups, little medals with little gold. Nothing compared to Anglo-saxon and Japanese awards: italic anglers squander their paychecks (and someone even the marriage) for a little glory. This is the second reason why they deserve the upmost respect.
Paolo Cauzzi e Maurizio Fedeli, Ravanelli squadra B. Hanno battuto la coppia d'oro Fini/Falsini vincendo il loro settore con 4110 grammi, comunque non abbastanza per ottenere un buon risultato finale di squadra. Il premio di 1000 euro è stato vinto dal club Il Vairone. Si, solo questa cifra ai vincitori e pochi spiccioli a ciascuna coppia prima classificata in ogni settore: per oscure ragioni che non ho mai compreso, nella penisola italica le premiazioni sono sempre avvenute con salami, salsicce, coppe di latta e medagliette realizzate con una minima quantità d'oro. Nulla di comparabile con le premiazioni anglosassoni o giapponesi: i garisti italici dilapidano il proprio stipendio (e qualcuno anche il matrimonio) solo per una briciola di gloria. Questa è l'altra ragione per cui meritano il massimo rispetto.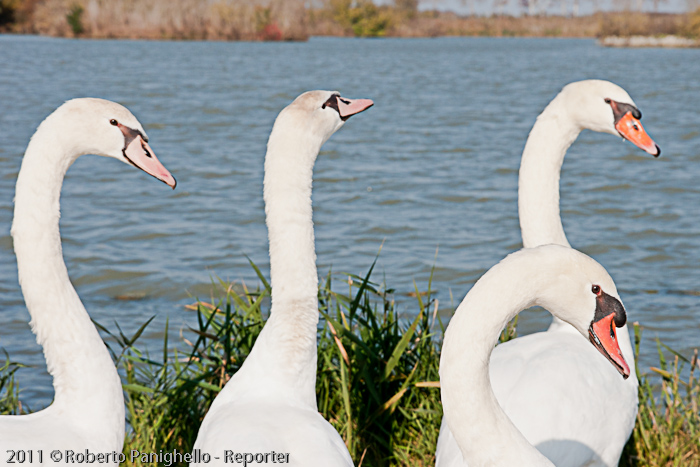 These gentlemen were the only ones interested in the match… how far the days of the world championship! This was my last picture: I couldn't be present at the awards cerimony due to work reasons.
Questi signori erano gli unici interessati alla gara… quanto lontani sono i giorni del mondiale! Questa è stata la mia ultima foto della giornata: non ho potuto essere presente alla premiazione a causa di questioni lavorative.
About the Author