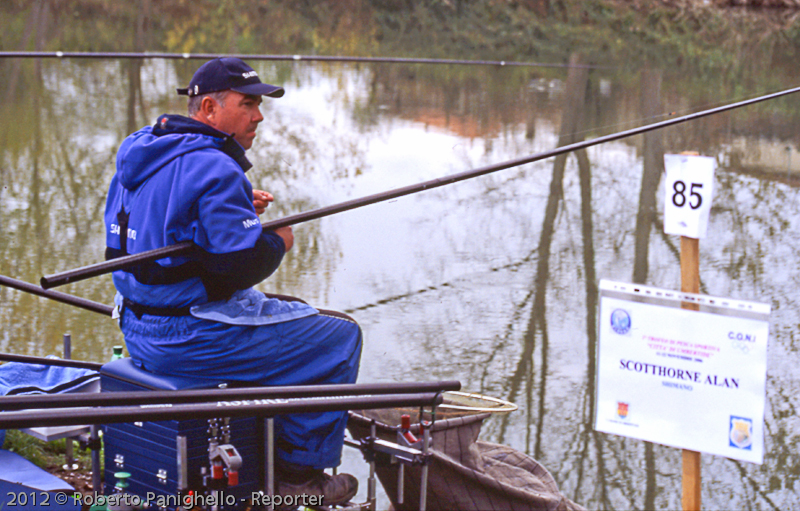 The news I had read for the first time on a German site and then saw it confirmed by British sources: from Shimano to Drennan within two days. About the reasons for the change I know just like you, that is nothing more than the statements of facts contained in the press releases of respective companies. Strange indeed the time of this choice, early in the season and with 2012 catalogues printed by the ton and already in many houses across Europe…
La notizia l'avevo letta per la prima volta su un sito tedesco per poi vederla confermata da fonti inglesi: da Shimano a Drennan nel giro di due giorni. Sui motivi del cambiamento ne so quanto voi, ovvero nulla di più delle dichiarazioni di circostanza riportate nei comunicati delle rispettive aziende. Strano davvero il periodo di tale scelta, a inizio stagione e con i cataloghi 2012 stampati a tonnellate e ormai nelle case di tutta Europa…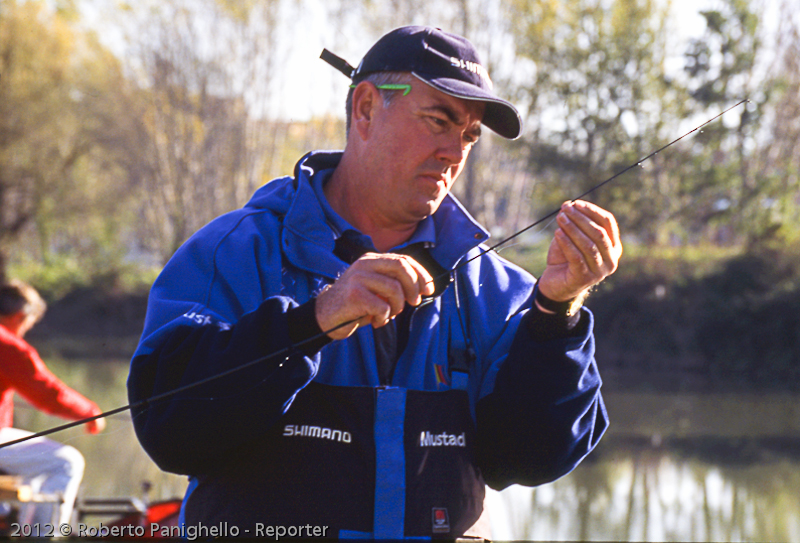 Most of the photos you see in this article were taken in November 2006 at the First Trophy Shimano (first and only) played along the banks of the Tiber river near the town of Umbertide, north of Rome. The quality of the shots is hardly decent because they were taken with my two old MZ-5N fitted with Sigma lenses (my first photo equipment). Behind Scotthorne you can have a glimpse of Umberto Ballaben, who fished on his left during the first of the two tests.
La maggior parte delle foto che vedete in questo articolo sono state scattate nel novembre 2006 in occasione del Primo Trofeo Shimano (primo e unico) disputato lungo le sponde del fiume Tevere presso la cittadina di Umbertide, a nord di Roma. La qualità degli scatti è appena decente trattandosi di materiale ottenuto dalle mie vecchie MZ-5N montate con ottiche Sigma (la mia prima attrezzatura fotografica). Alle spalle di Scotthorne potete intravvedere Umberto Ballabeni, il quale pescò alla sua sinistra durante la prima delle due prove.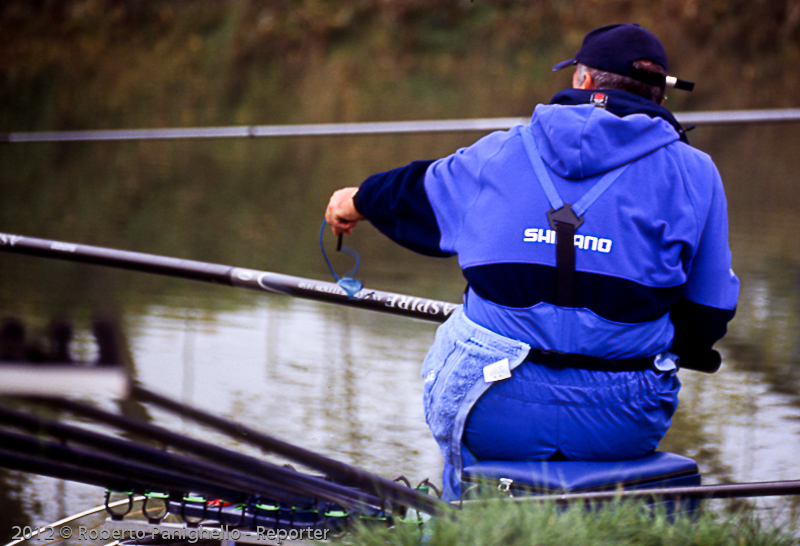 That event was raced on two days and had to represent the first edition of a highly prestigious sport event that would bring together the best European matchanglers. Well, the 2006 edition did not have a following and Shimano no longer sponsored the event. Why? The official reasons not known, although it'isnt hard to guess them: in that weekend on the Tiber's banks there was virtually none watching the competition. In an article published in the defunct magazine Pescare dedicated to the event, about the absence of an audience, I wrote a quote: "I've seen more life in the Kalahari desert with the sun at its zenith". Think about it: Shimano had brought the best matchanglers ever, but the Italian ones decided to fish in their litlle matches instead. Facing such a bleak scenario someone must have wisely decided that the time and resources should be used better.
Quella manifestazione si disputò su due giornate e avrebbe dovuto rappresentare la prima edizione di un evento agonistico di assoluto prestigio in grado di radunare i migliori garisti d'Europa. Ebbene, l'edizione del 2006 non ebbe un seguito e Shimano non sponsorizzò più l'evento; perché? Le motivazioni ufficiali non le conosco, anche se non è difficile intuirle: in quel weekend lungo le sponde del Tevere a seguire quella gara non c'era praticamente nessuno. In un articolo dedicato all'avvenimento pubblicato sulla defunta rivista Pescare, a proposito della latitanza di pubblico, scrissi testualmente: "ho visto più vita nel deserto del Kalahari con il sole allo zenith". Pensateci: Shimano aveva portato il miglior garista di sempre, ma i pescatori italiani decisero di preferire le loro garette sociali. Dinnanzi a uno scenario così desolante qualcuno deve aver deciso saggiamente che tempo e risorse dovessero essere impiegate meglio.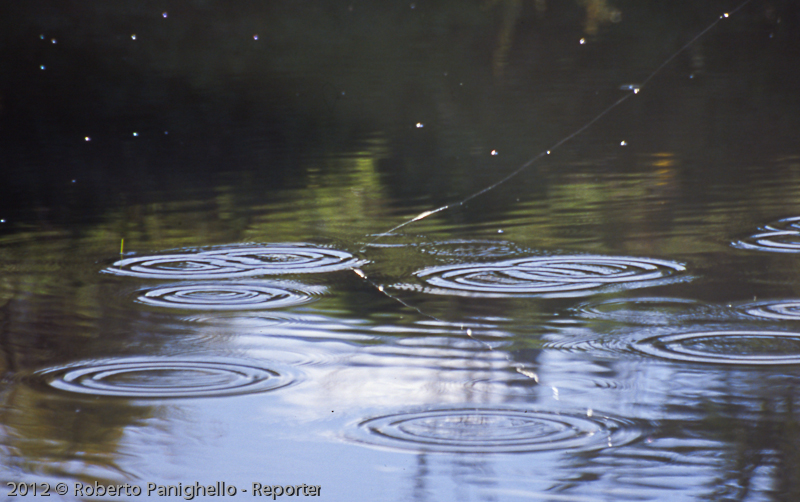 The white dots you see above the surface are chironomids photographed in partially backlight. Shallow water, slow, very light lines, many large chubs, a few maggots constantly slingshot and a long bannière: this was also the field of the world championship for clubs held a year earlier, in 2005 late spring. Ravanelli of Soresina (a team near the city of Cremona) won the championship, but Alan Scotthorne dominated from the top of his class.
I puntini bianchi che vedete sopra la superficie sono chironomidi ripresi in parziale controluce. Acqua lenta e poco profonda, lenze leggerissime, molti grossi cavedani, pochi bigattini da fiondare costantemente e una lunga bannière: questo fu anche il campo gara del mondiale per club svoltosi un anno prima, nella tarda primavera del 2005. Vinse il titolo la Ravanelli di Soresina (vicino Cremona), ma Alan Scotthorne dominò incontrastato dall'alto della sua classe (non c'ero, e ancora adesso me ne pento).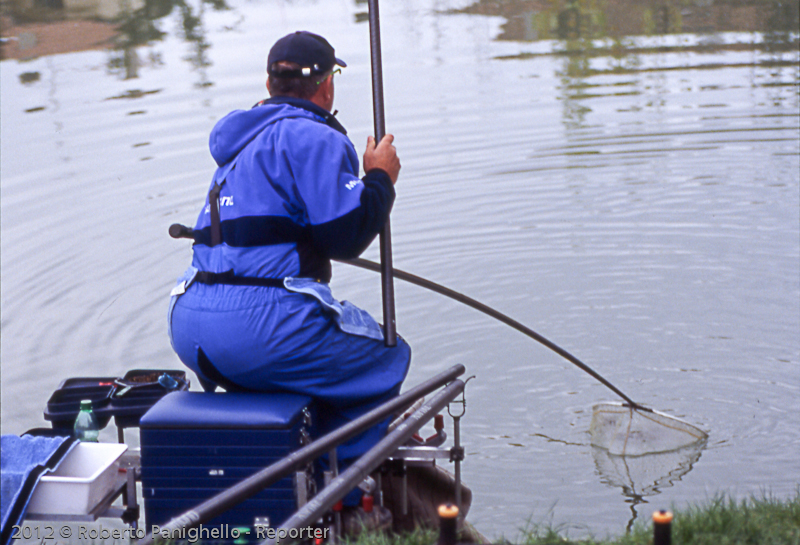 The Tiber river in Umbertide is a wonderful place and very technical, even though irregular. Scotthorne won his sector in the second day, but in the debut match he captured only a couple of chubs which allowed him a modest sixth place.
Il fiume Tevere a Umbertide è un posto meraviglioso ed estremamente tecnico, anche se irregolare. Scotthorne vinse il proprio settore nella seconda giornata, ma nel match di esordio catturò solo un paio di cavedani che gli consentirono un modesto sesto posto.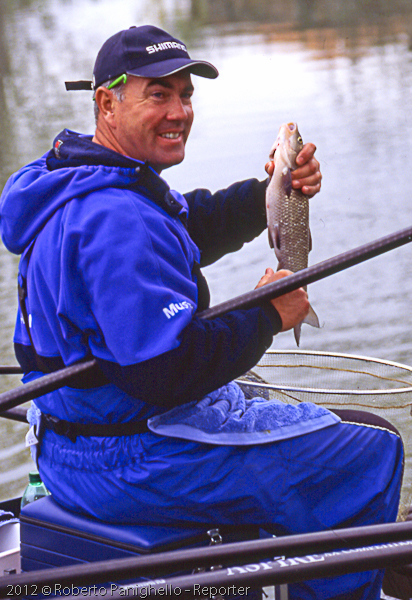 The English champion shows his prey to the two people who are following him; he smiles, no tension of an official match on his face. The chub was caught using a roubaisienne with long bannière.
Il campione inglese mostra la sua preda alle due persone che lo stanno seguendo; sorride, non c'è tensione sul suo volto. Il cavedano è stato catturato con la roubaisienne impiegando una lunga bannière.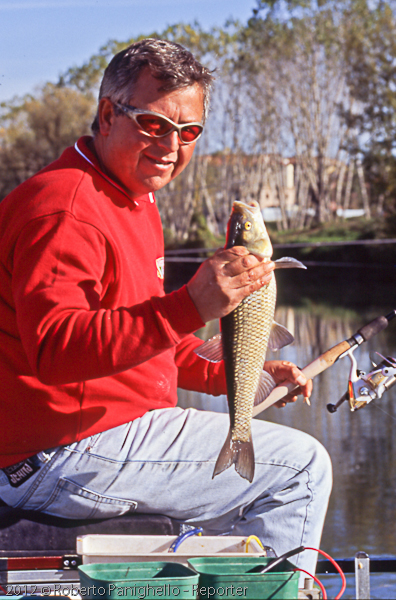 Umberto Ballabeni fished near Scotthorne during the first day, the shocking-red sweater worn by the Italian betrays his former militancy in the Lombardi, club of Milan (now he competes for the Lenza Emiliana of Bologna). Note the different rod used and how (just as different) he handles the unhooked fish.
Umberto Ballabeni pescò accanto a Scotthorne durante la prima giornata; il maglione rosso shocking indossato dall'italiano tradisce l'allora militanza nella Longobardi di Milano. Notate la diversa canna usata e il modo, altrettanto diverso, con cui maneggia il pesce appena slamato.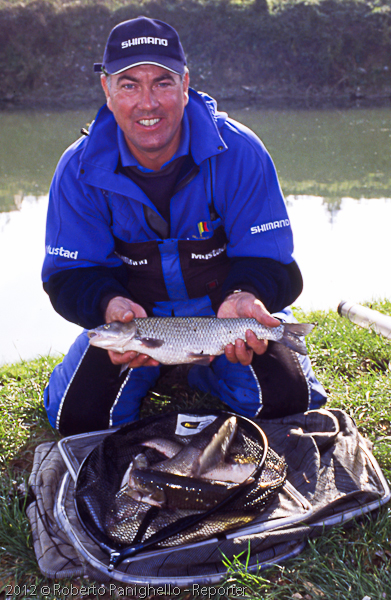 The haul of the second day competition: more than six kilos of chubs caught alternating long pole with match rod.
Il bottino della seconda giornata di gare: oltre sei chilogrammi di cavedani pescati alternando la roubaisienne all'inglese.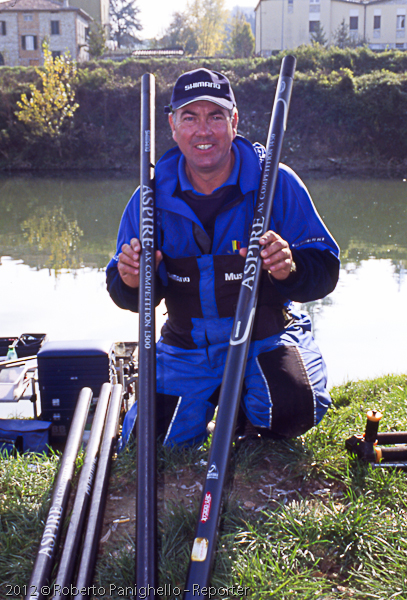 The Aspire AX Competition is a pole that I wanted in the holdall to keep company to my Daiwa's.
La Aspire AX Competition è una canna che avrei voluto nel fodero a far compagnia alle mie Daiwa.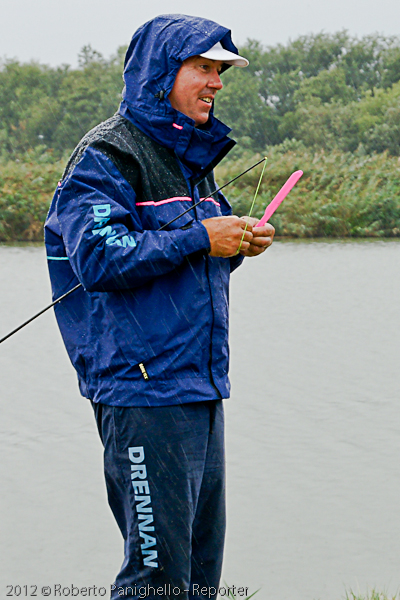 This picture was taken during the last world championship in Ostellato and you do not notice any reference to Shimano: the English champion dressed Drennan from head to feet. Even then it had given me to think… a predictive image?!
Questa foto è stata scattata durante l'ultimo mondiale disputato a Ostellato e non si nota alcun riferimento a Shimano: il campione inglese è vestito Drennan dalla testa ai piedi. Già allora mi aveva dato da pensare… un'immagine premonitrice?!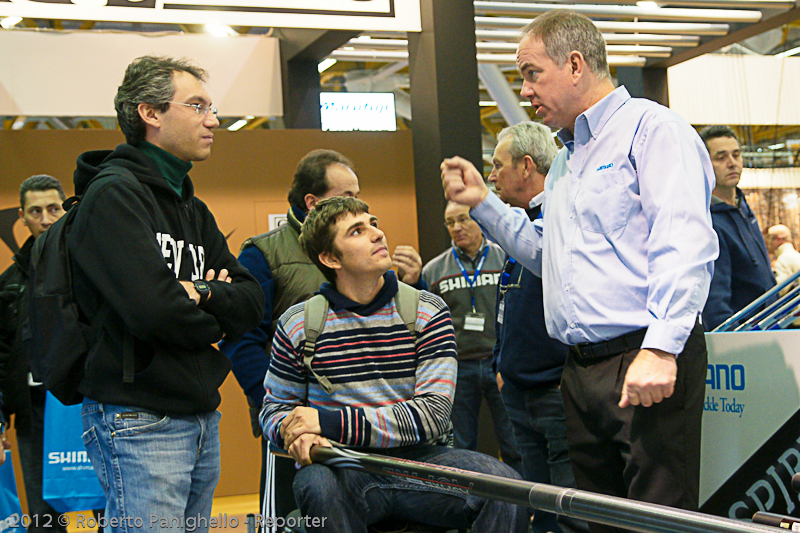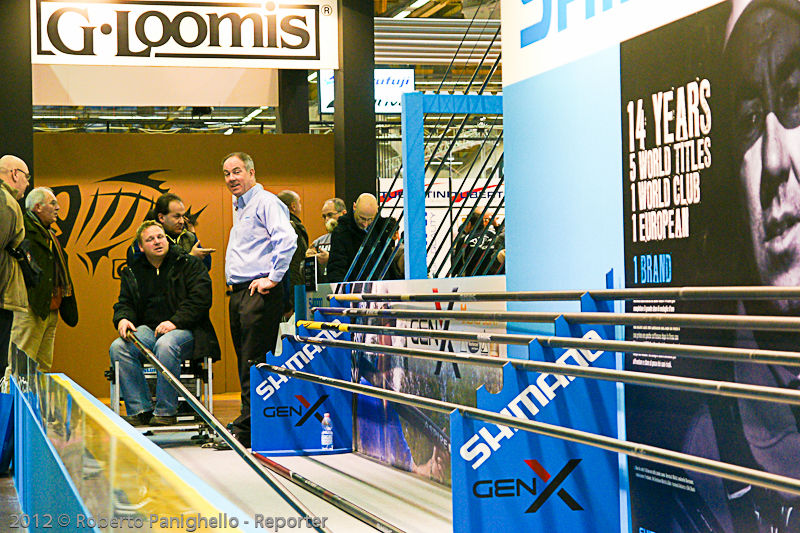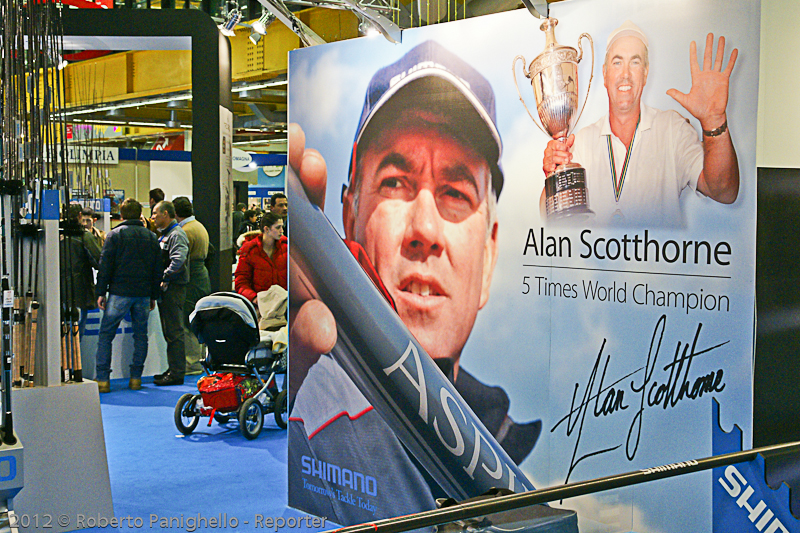 Scenes that we will see no more in the Shimano stands: these are photos that already belong to another era.
Scene che non vedremo più negli stand Shimano: sono foto che già appartengono a un'altra era.
About the Author